Oops! Looks like your browser is out of date. Is this page displaying correctly? If not, try upgrading your browser or use a different one.
Atmospheric CO2 visualised in inverted globe.
2021 Venice Architecture Biennale.
This summer, visitors to the Central Pavilion within Venice's historic Giardini gardens will find themselves enveloped in a panoramic, worldly experience. Geoscope 2: Worlds reinvents Buckminster Fuller's pioneering 1960s 'Geoscope' concept in 2020s digital form, for festival visitors.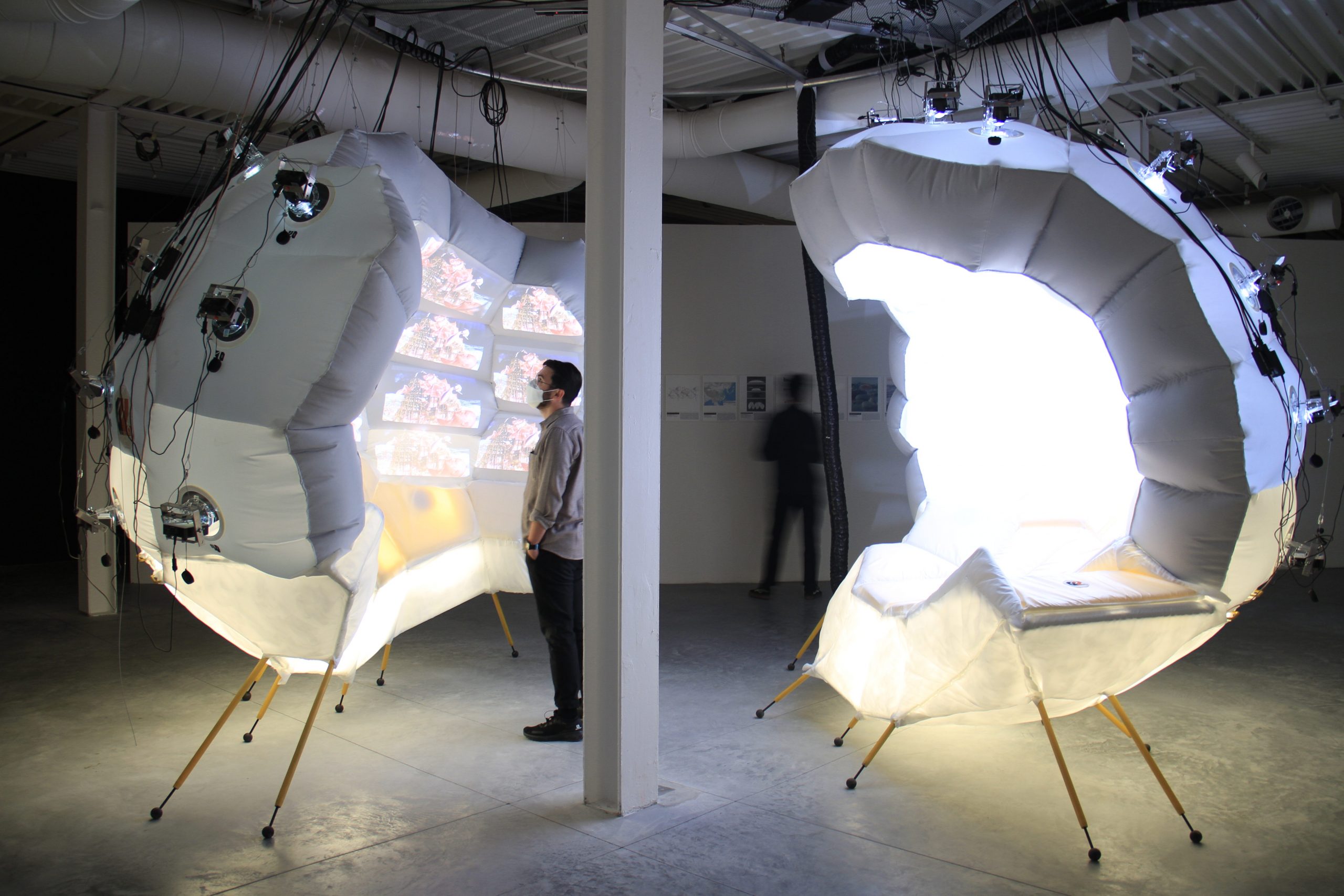 Taking the form of a split sphere, the Geoscope 2: Worlds installation presents 20+ contemporary voices from throughout and beyond international architecture – ranging from the Pritzker Prize-winning architect Kazuyo Sejima, to the radical ecologist-philosopher Timothy Morton – and projects these across 42 internal facets, in a kaleidoscope of global thought.
AKT II was invited to be one of those voices and to provide a contribution to provoke thoughts around the biennale theme, and has contributed a dynamic, computationally generated visualisation of Earth's atmospheric CO2. The design capitalises on the globe-shaped projection surface to immerse festivalgoers in the full '360 degrees' of the crisis – for which we must now join design forces, to solve.'
"A lot of AKT II's computational work explores the intangible qualities of our built world's performance. Through our video in the Geoscope 2: Worlds, we're making the past 20 years' of our planet's Co2 trajectory newly tangible, as a multi-sensory experience for festival visitors. The climate crisis is a shared problem, and to solve it we crucially need a shared understanding of its true nature. All of the satellite data that we've used is freely available online, but for many people this installation will be their first experience of really seeing clearly the growing catastrophe of our atmospheric Co2. We hope that this new perspective drives awareness throughout our design industry, and helps focus all of our efforts away from the 'country by country' approach and moreover towards the imperative, shared global endeavour." AKT II computational-design director, Edoardo Tibuzzi.

Geoscope 2: Worlds celebrates the diversity of how we think, act, and interact, together. The installation is on display now within the Giardini's Central Pavilion, as part of the ongoing 2021 Venice Architecture Biennale, from 22nd May to 21st November.
© Princeton University of Architecture