Oops! Looks like your browser is out of date. Is this page displaying correctly? If not, try upgrading your browser or use a different one.
Engineering wind.
Bioclimatic design series.
Finding an equilibrium between nature and the built environment requires dedication, experience, and most importantly technology. Bioclimatic design – a combination of 'biology' and 'climate' – aims to uncover this delicate balance, and helps to make cities more resilient, comfortable and safe. Here, our bioclimatic lead-designer Mattia Donato explores the wind's profound effect upon our urban realm.
Bioclimatic designers help teams to create buildings and landscapes that inherently mitigate any adverse wind, heat, pollution, and glare. This article is the first entry in a series wherein we discuss the benefits of bioclimatic practice within city planning.
Wind: ally and enemy.
Wind is an invisible force that makes many visible impacts to our daily life, and is one of the most fascinating forces that as engineers we constantly face. Wind has a dramatic impact on the performance of our structures – as demonstrated by the infamous Tacoma bridge collapse of 1940 – and affects many urban activities, including walking and driving. Recent studies have even shown that the negative ions that wind carries can affect our emotional state, and thus may further influence our human behaviour. At the same time, wind also offers positive impacts, such as cooling overheated areas, or even cleansing polluted neighbourhoods.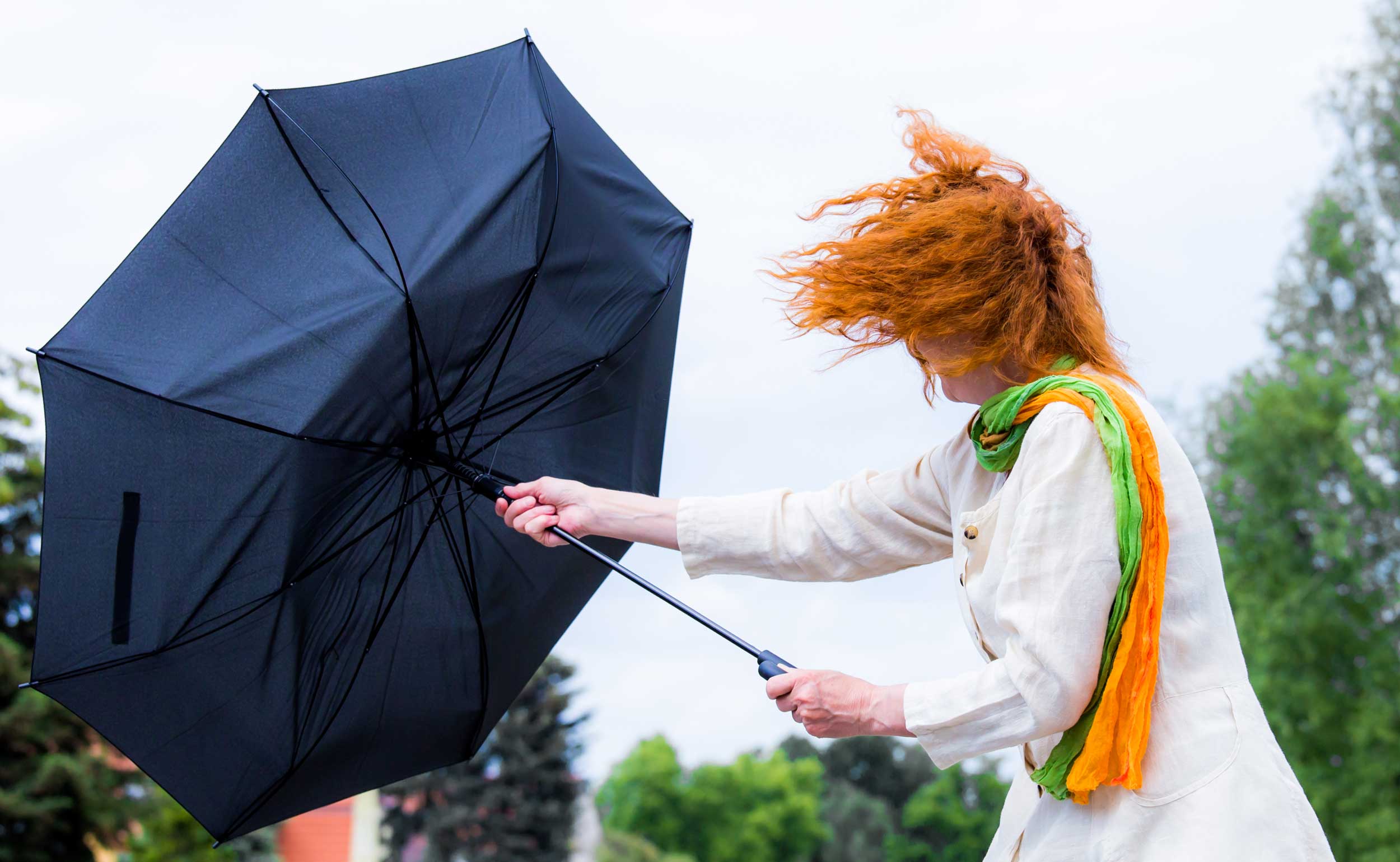 The wind tunnel, from physical to digital.
Man-made interventions within the urban texture are continually reshaping the wind's natural path. At AKT II, our curiosity for the effects of these changes has fuelled a seven-year research programme which has so far culminated in the development of our in-house 'digital wind tunnel' testing facility. All of this was kick-started by our work on the South Bank Tower (completed in 2016), for which the engineering challenge was extreme; we were tasked to add 11 upper storeys to the existing high-rise volume and without drastic change to the existing structure. Our CFD wind-analysis proved crucial in determining an accurate description of the site's wind forces, and thus also in maximising the structural capacity of the additional floors.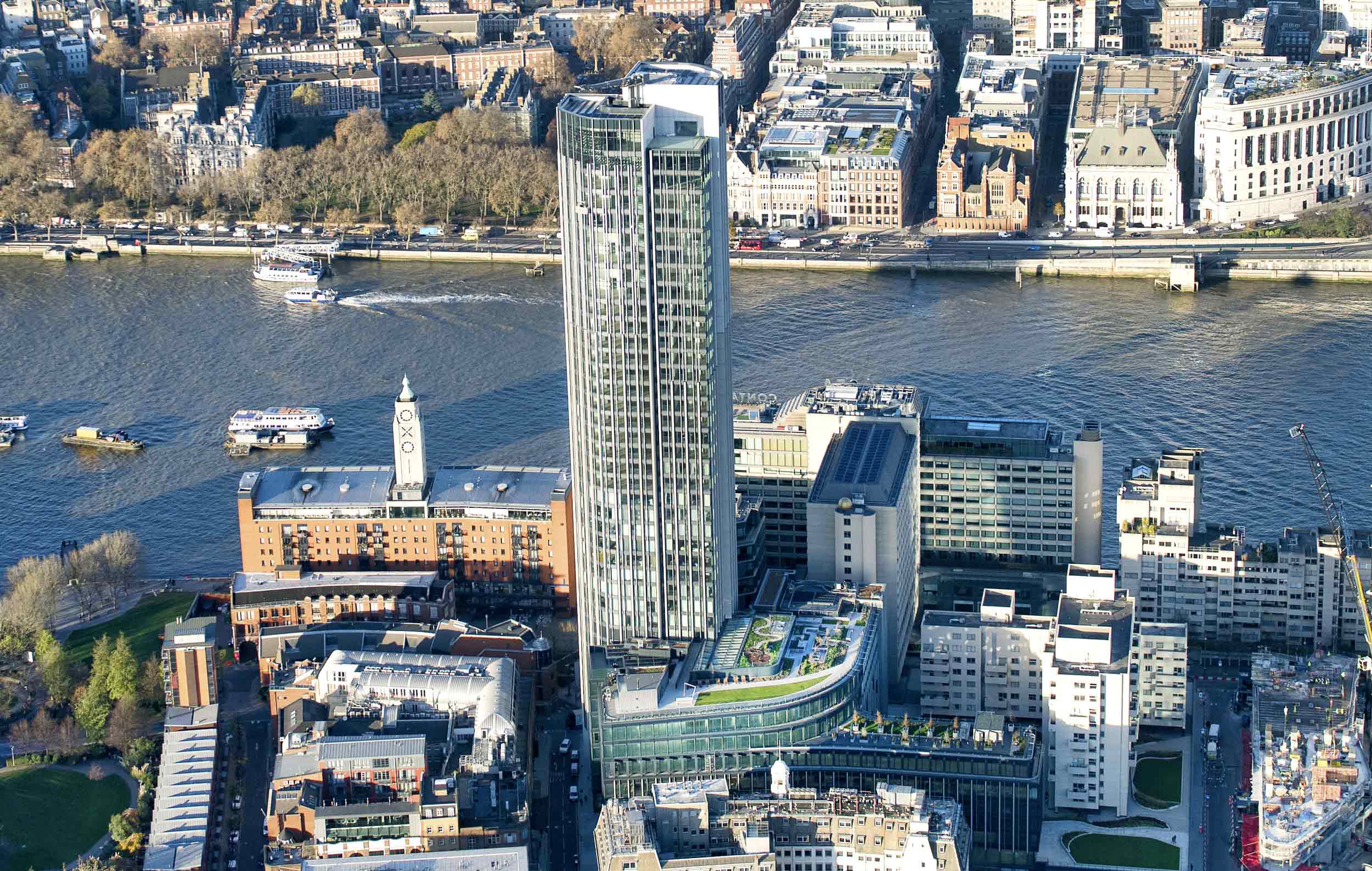 Through various projects, our bioclimatic design team identified a bottleneck, namely the expensive and lengthy, physical wind-tunnel tests, which generally occur close to the planning submission and so leave little time for the design team to mitigate discomfort without impact to overall design quality or team efficiency. This physical wind-tunnel testing moreover typically provides only a finite set of outputs, and often fails to capture a full description of the project and its surroundings. Digital analysis conversely allows designers to control the output's granularity and to visualise the results with much greater detail. This for example allows quick comparisons of the wind's effects at various times of year, as well as immediate assessments of any proposed changes to the design's massing or boundary.
While researching all of this, we realised that there was no straightforward method for quickly running such a complex analysis. We accepted the challenge and returned to the drawing board. Our software development team sat down with our structural wind experts and sketched a plan to integrate the two methodologies into a singular, streamlined algorithm; one that performs the computation directly from the geometry of our BIM models, and which allows custom-designed visualisations of the results.
This innovation became a key milestone in defining our company-wide, data-driven design approach. Today, our bioclimatic team leverages this data-analysis to support the design process; contributing insights and pre-emptive measures that fundamentally improve qualities such as pedestrian comfort and structural performance.
An integrated approach.
Alongside the development of this computational platform, we set up a new, specialist bioclimatic team to bring in diverse skills from throughout professional practice and academia. The team provides high-level expertise to interpret and translate computational results into viable design options. Through tailored visualisations, and combined with our experience delivering countless complex projects, we interface with design teams across all project stages, with a focus on all areas affected by wind.
We've managed to transform uncomfortable areas, such as entrances, rooftops, canopies and balconies, into pleasant spaces that comply with increasingly stringent city-centre requirements. We've achieved this by working closely with architectural teams to manipulate massing, shape and function, while also collaborating with structural teams to mitigate the wind's impact upon complex structures such as those within high-rise buildings, bridges and other sensitive constructions.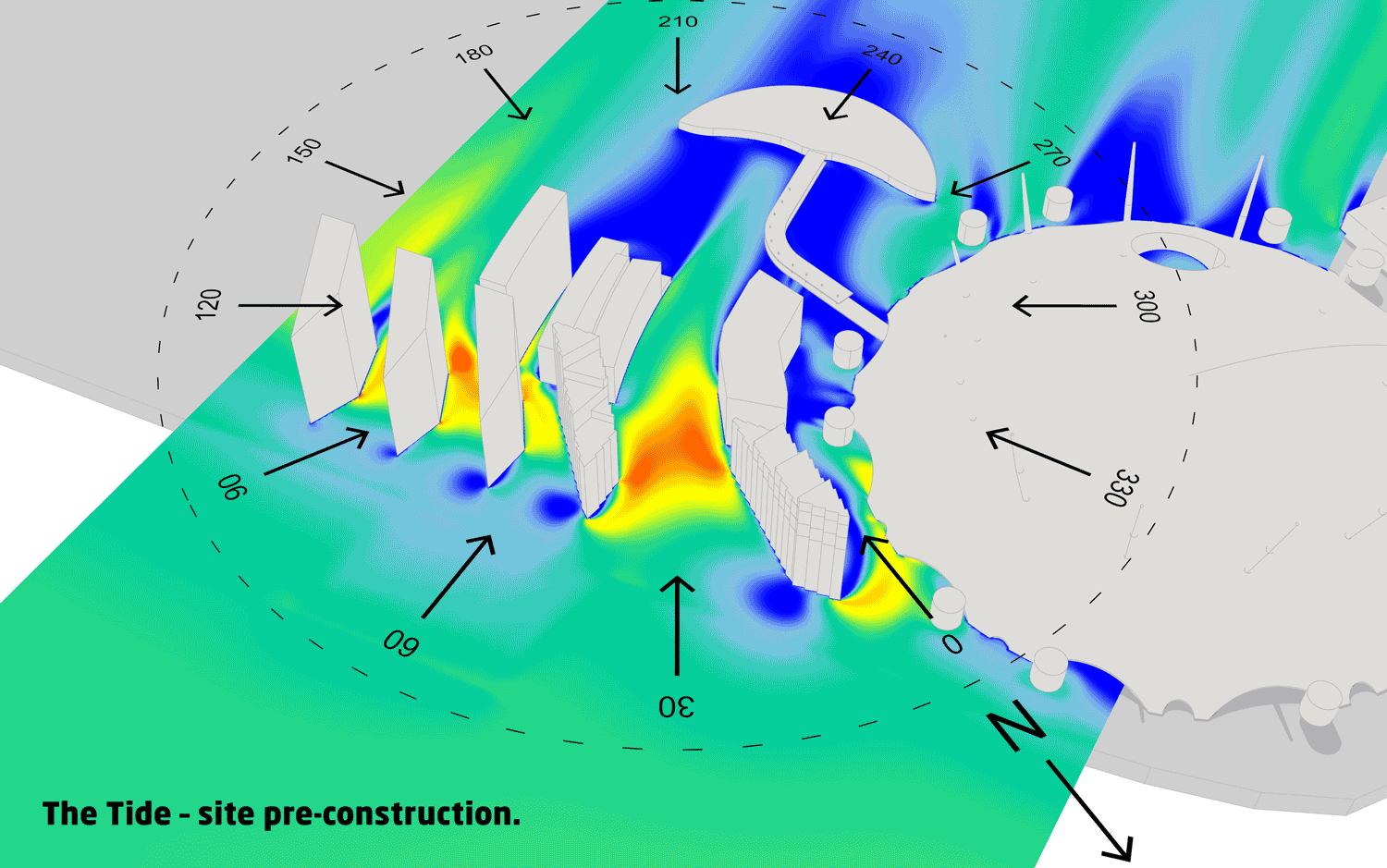 Our team also works with landscape designers, for example identifying the areas to be mitigated, selecting appropriate tree species, and advising on the density and extent of planting to achieve the desired mitigation level. Together with the transport planner, we review sensitive areas such as bus stops, taxi ranks and cycle lanes, and we make sure the planning-stipulated comfort level is achieved and verified throughout.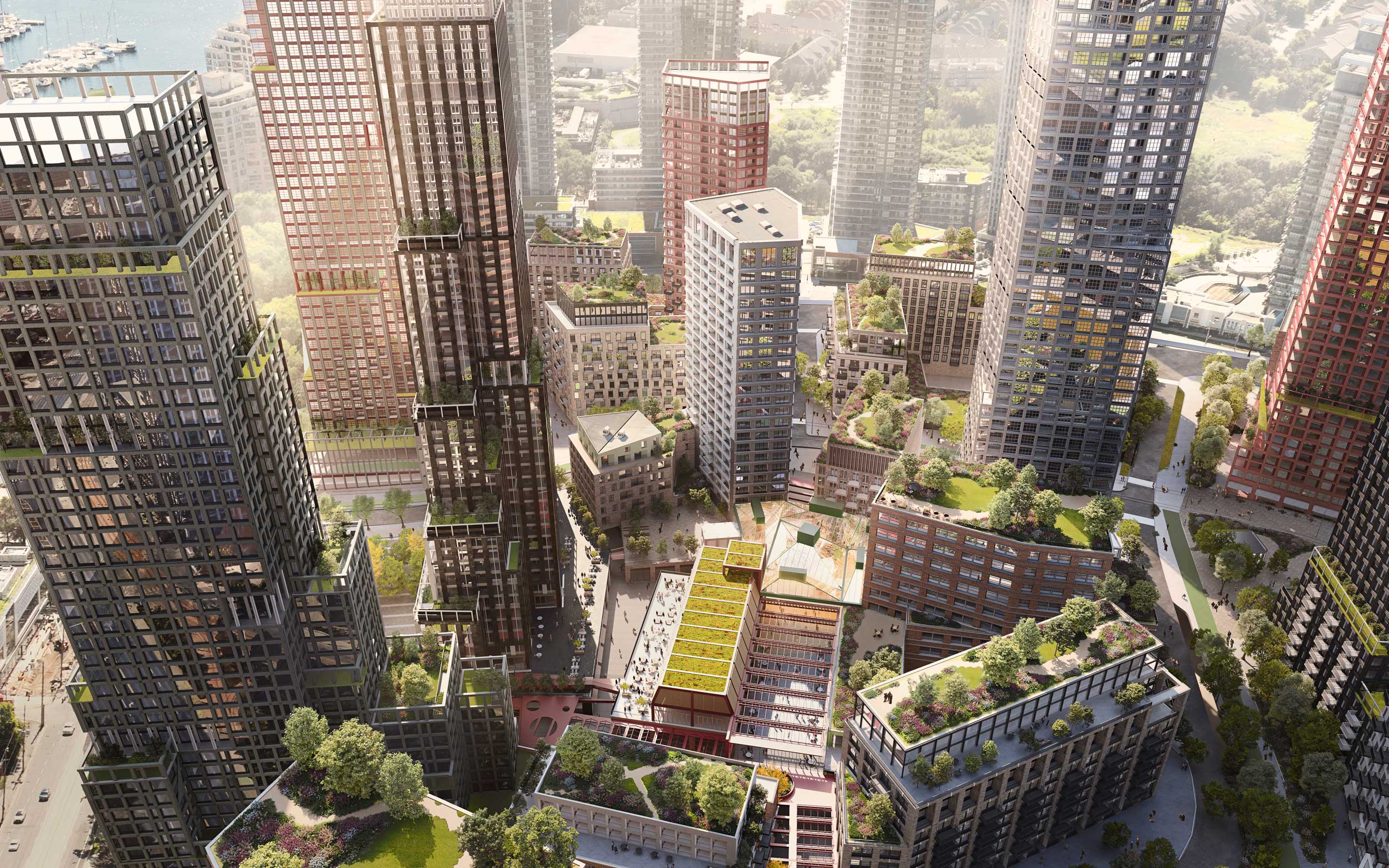 Case study: 2150 Lake Shore.
2150 Lake Shore – a programme of 32 buildings totalling 670,000 square metres of floor area, and due complete in 2048 – forms one of the largest planned developments in Toronto. Centring on holistic sustainability, the design brings together outstanding energy performance with an inclusive public realm, with our bioclimatic team having carefully assessed the wind-microclimate and thermal comfort to support these ambitious aspirations.
We first identified the effects of the wind-massing interactions at the pedestrian level, and checked each critical location where predominant wind direction will need to be mitigated. Our team produced 'streamline' wind-effect diagrams to visually support the overall project team's mitigation measures, including by visually highlighting the architectural causes of flow acceleration.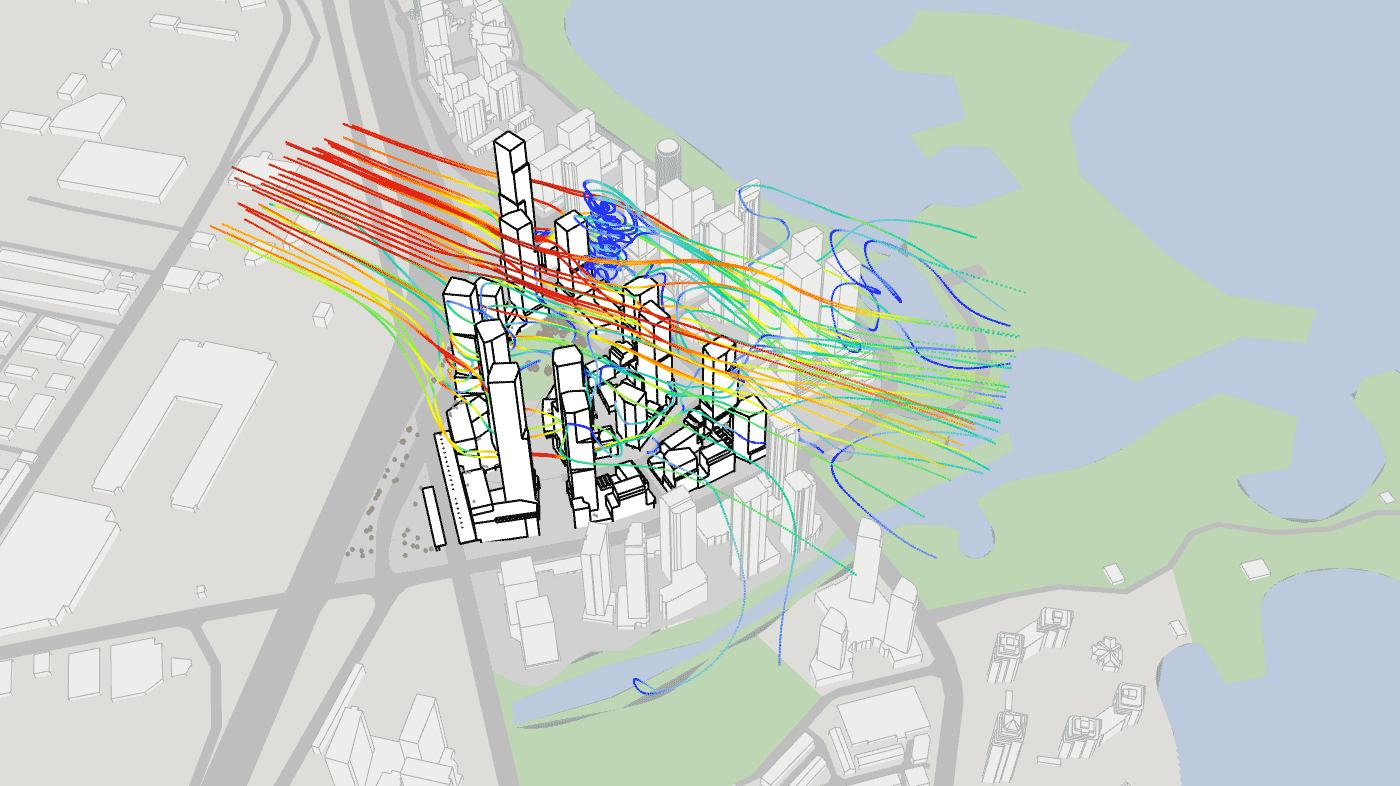 We worked closely with the masterplanning architect Allies & Morrison and with the landscape designer GROSS MAX to arrive at the most effective tree locations, species and heights. The project-team-wide, integrated design process, supported by our flexible and responsive CFD workflow, made this possible.
The result is a comfortable and safe public realm for people of all ages, and all year round, whether we're walking, having a coffee, cycling, sitting in the park, or perhaps just enjoying the Canadian snow.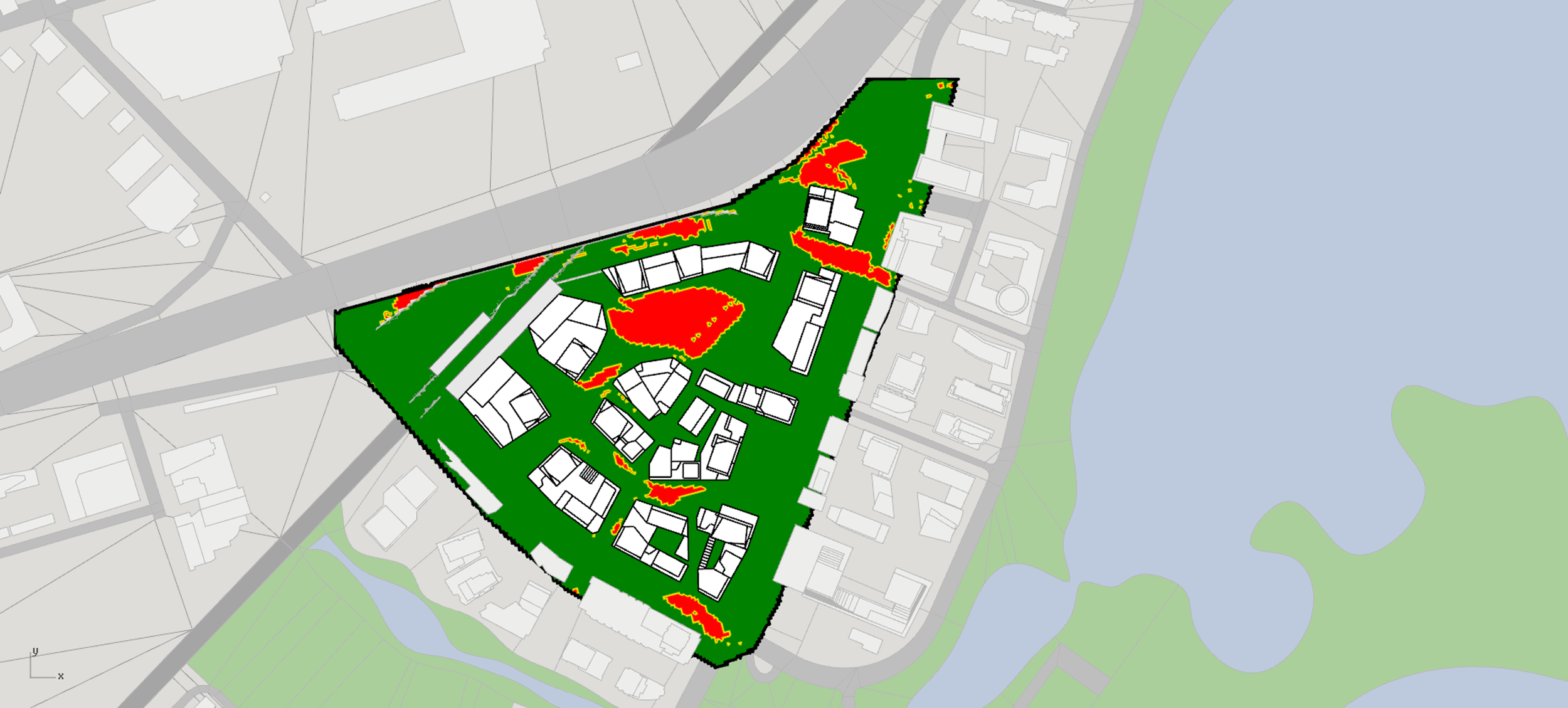 From research to reality.
We've already applied this digital bioclimatic workflow to support many project teams with planning applications throughout London, the UK and internationally. This includes working with several UK developers and local authorities, including the City of London which stipulates the nation's most stringent wind-comfort criteria, as well as with clients across Russia, Canada and the Middle East. Several of these London projects have secured planning approval – such as 81 Newgate Street, Lansdowne House, Brent Cross, and Yandex – while many others are in detailed design or under construction.