Oops! Looks like your browser is out of date. Is this page displaying correctly? If not, try upgrading your browser or use a different one.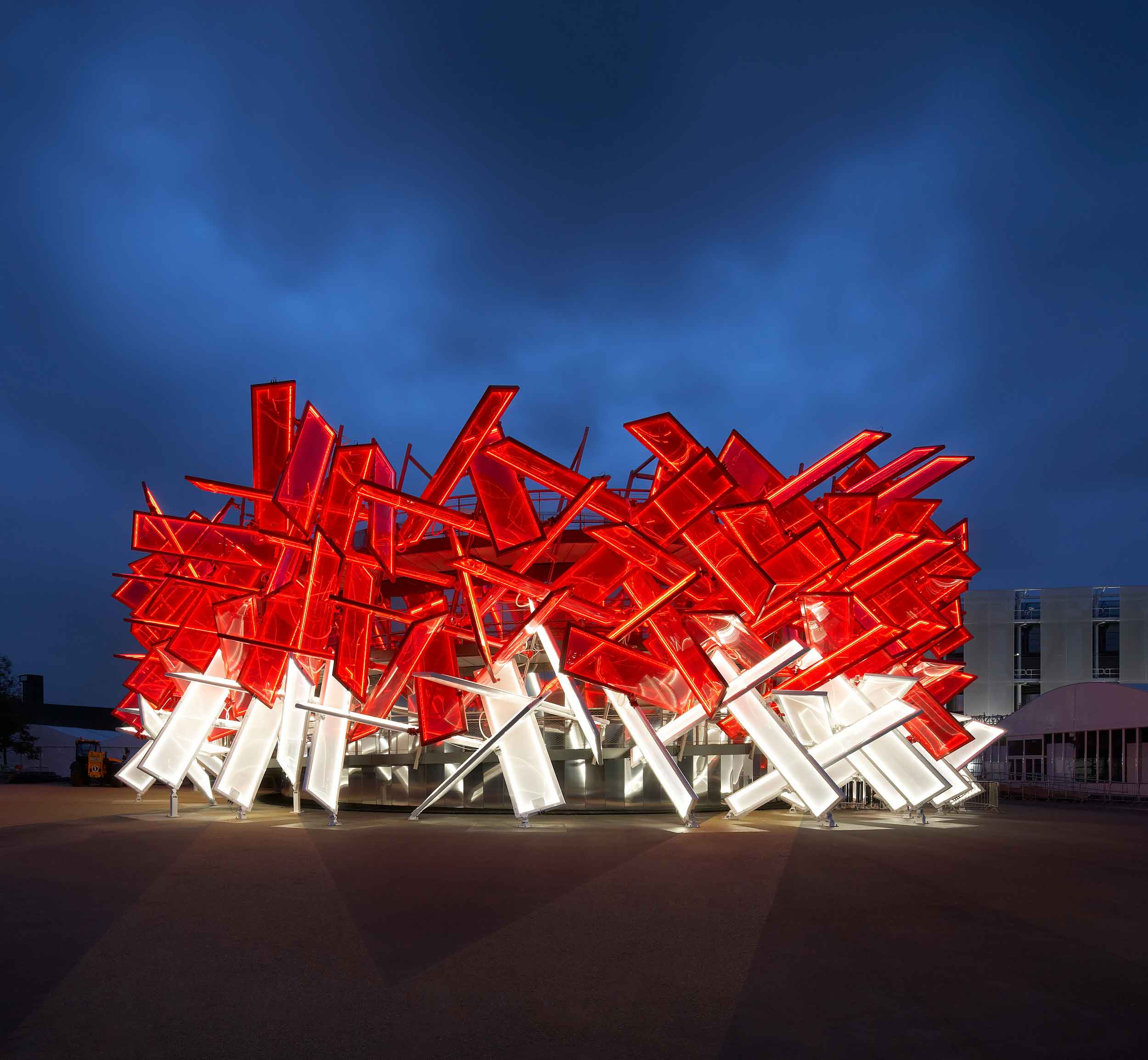 Coca-Cola Beatbox.
The Coca-Cola Beatbox fuses architecture, technology, and the visitor's movement, into a multi-sensory interactive public artwork. It's a temporary, demountable pavilion installation that was first delivered for London's 2012 Olympic and Paralympic Games. AKT II developed the structural design in close collaboration with the project's teaming architects Asif Khan and Pernilla Ohrstedt; the complex-looking form has been parametrically rationalised into a simple 'kit of parts' that is efficient to manufacture and assemble.
Colourful pavillion for the 2012 Olympics with sound-emitting ETFE cladding.
Architect
Pernilla & Asif
Project Value
confidential
The pavilion's dramatic, crystalline exterior is a complex, interwoven arrangement of over 200 'ETFE' (ethylene-tetrafluoroethylene) pillows. ETFE is an inflatable plastic surface that allows large, lightweight structural components. Each pillow is five metres long, is formed around a slim, rectangular steel frame, and is fitted with bespoke audio, illumination and sensor technologies. Once assembled and wired up, the pillows activate sound and light effects dynamically in response to the visitors' gestures and proximities.
Our structural objective was simple: to have no real structure visible other than the pillows themselves, so as to empower the lightweight architectural aesthetic. This means transcending any traditional approach of affixing cladding to a notional support structure, and moreover results in a 'reciprocal structure' that is inherently self-supporting.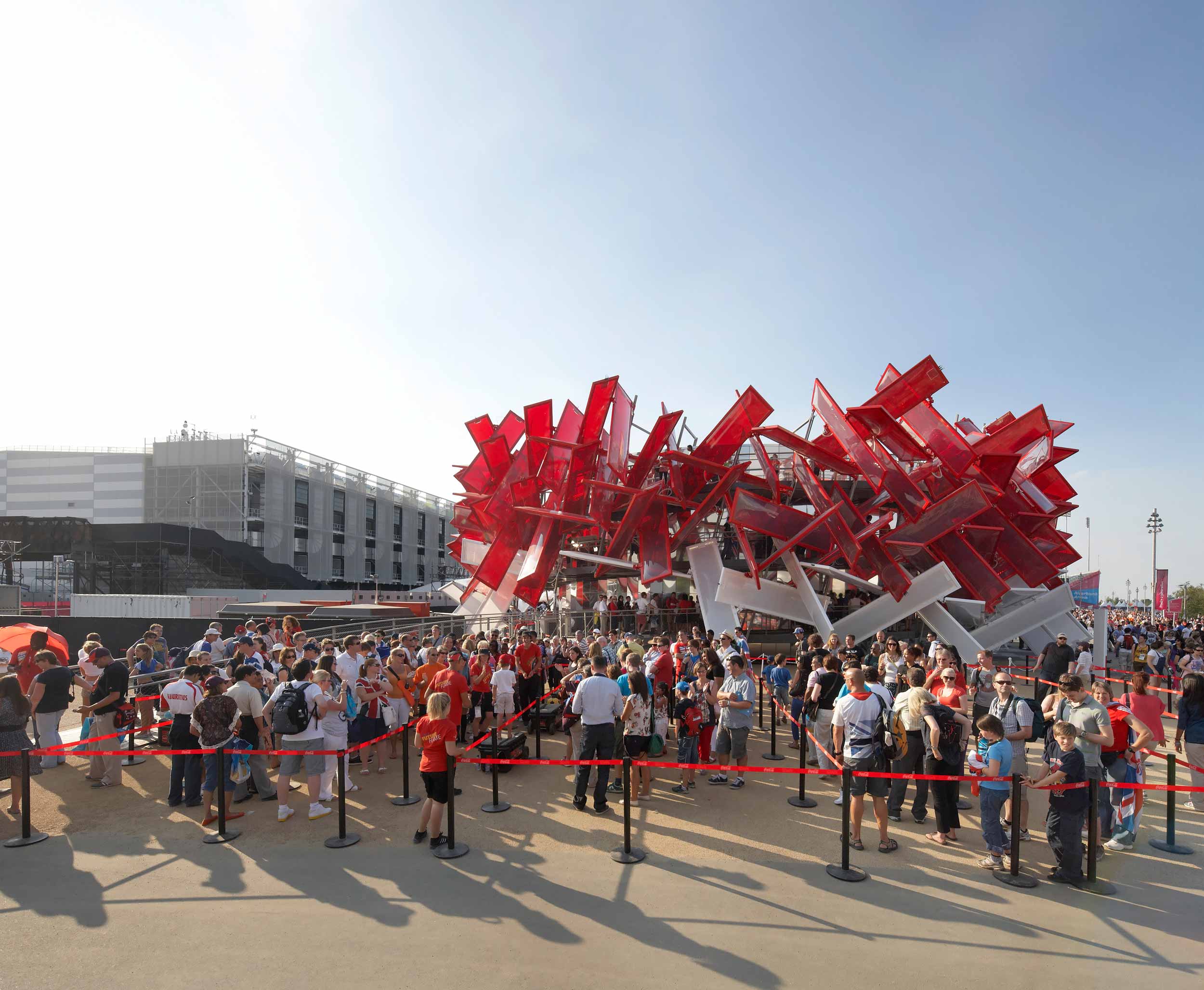 All of the pillows (which themselves are rigid, steel-framed elements) are each uniquely arranged into larger structural 'modules' (groups) of pillows, which are then fabricated as self-supporting sections, transported to the site, and simply pieced together like a giant jigsaw. While the overall form is large – the circular pavilion is eight metres' tall and twenty-four metres in diameter – it's been realised, through this methodology, with relatively small components, and with minimal connective complexity.
AKT II's in-house computational team provided the parametric research and analysis to achieve this refined architectural form. The process started with a relatively ordered pattern; we then introduced a more random appearance by variously rotating and shifting the pillows, and even omitting some of them. This dynamic, flexible configuration takes advantage of the generous redundancy that's afforded by the overall structural solution.
During the 2012 event, an estimated 200,000 visitors 'played' the Coca-Cola Beatbox, like a giant musical instrument, as they journeyed 200 metres through the structure. Visitors first ascend a spiral ramp to the pavilion's rooftop, with views across the Olympic Park, before finally descending into an internal, interactive light installation, which was designed by Jason Bruges Studio.