Oops! Looks like your browser is out of date. Is this page displaying correctly? If not, try upgrading your browser or use a different one.
Geoscope II: Worlds.
The architects Daniel López-Pérez and Jesse Reiser (a principal of Reiser + Umemoto, aka RUR Architecture) have together re-thought R Buckminster Fuller's iconic 1960s 'geoscope' concept for the 2021 Venice Architecture Biennale. The experimental artwork Geoscope 2: Worlds includes, among many contributions, a dynamic video installation by AKT II.
'Patterns' animated video, displayed as part of exhibit 'Geoscope 2: Worlds' at the Venice Architecture Biennale 2021.
Client
Venice Architecture Biennale
Architect
Daniel López-Pérez
Jesse Reiser RUR Architecture / Reiser+Umemoto
Project Value
confidential
Geoscope 2 is a split-sphere, multi-media installation. In Venice, the exhibit gathers over 20 contemporary voices from inside and outside architecture – ranging from the Pritzker Prize-winning architect Kazuyo Sejima to the radical ecologist-philosopher Timothy Morton – and displays these across 42 internal facets. It presents an immersive audio-visual experience for visitors.
The RUR-designed Geoscope 2 that's on view in Venice was originally created for an exhibition celebrating the publication of Daniel López-Pérez's book 'R Buckminster Fuller: Pattern Thinking', which was held at Princeton University in 2020. Now, and in response to the 2021 biennale theme of 'how will we live together', López-Pérez and Reiser are shifting the projected content to the present day, to focus on contemporary voices looking at the world. In updating the data-visualisation technology that was pioneered by R. Buckminster Fuller, the resulting pneumatic, spherical multimedia environment now reimagines the geoscope through contemporary perspectives and means.
Geoscope 2: Worlds breaks the notional single world body into a concept of 'many worlds' – multiple bodies that interact chaotically – by literally splitting the sphere in half and opening it up to multiple contributors and perspectives. Several further pieces of content are interspersed to illustrate this spoken dialogue.
Among these is a dynamic video animation which has been designed and produced by AKT II's computational team. The video is displayed across the artwork's entire spherical internal surface, to newly visualise the proliferation of atmospheric carbon, globally, that's occurred so far during our 21st century.
The video is based on satellite data that's freely available online. Yet for many visitors, this will be a first experience of truly seeing the formerly intangible CO2 catastrophe. The climate crisis is a shared problem, and to solve it we need a shared understanding; AKT II's video contribution supports the artwork's wider dialogue, and drives awareness of the required, global response.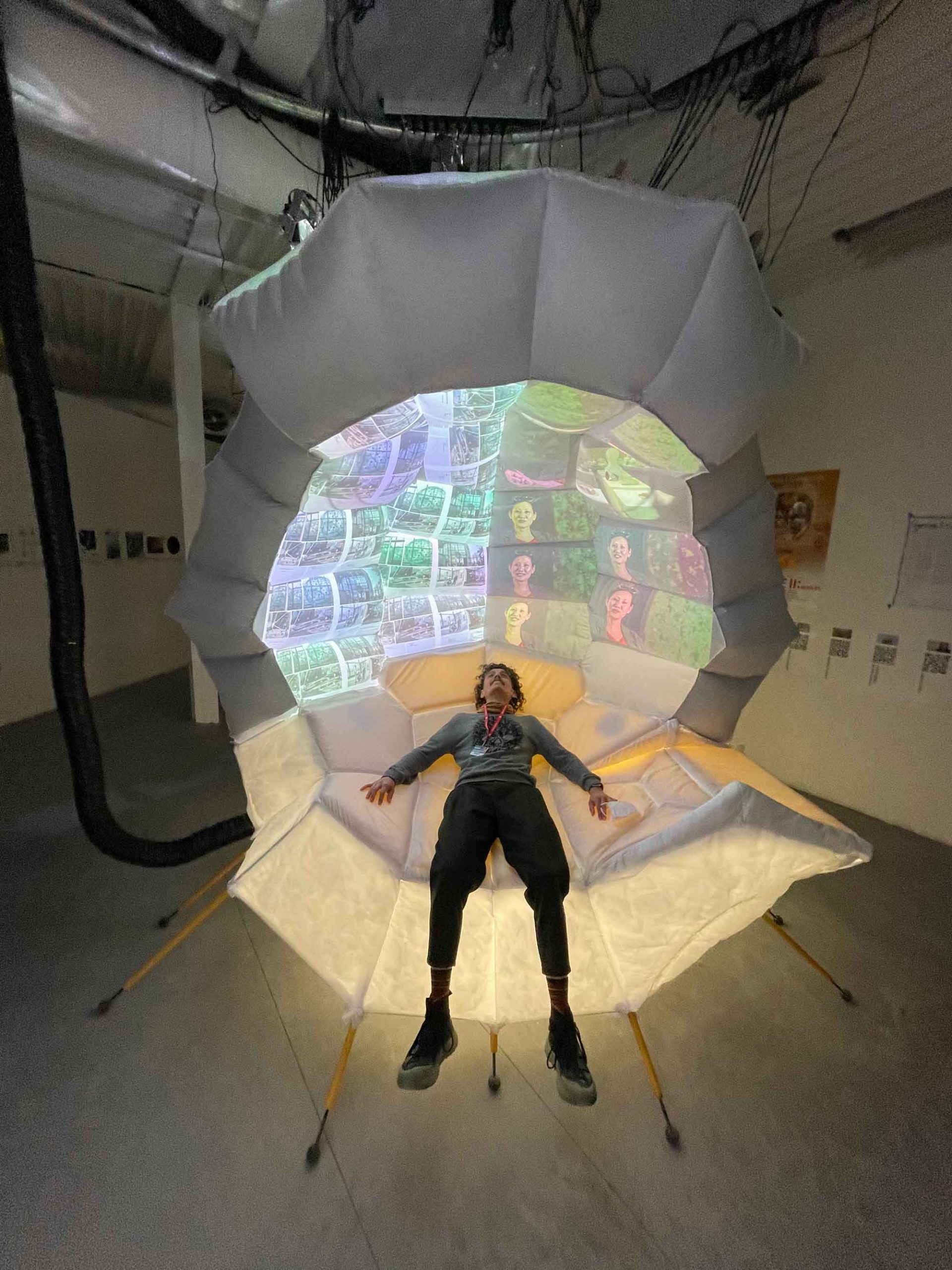 © Princeton University of Architecture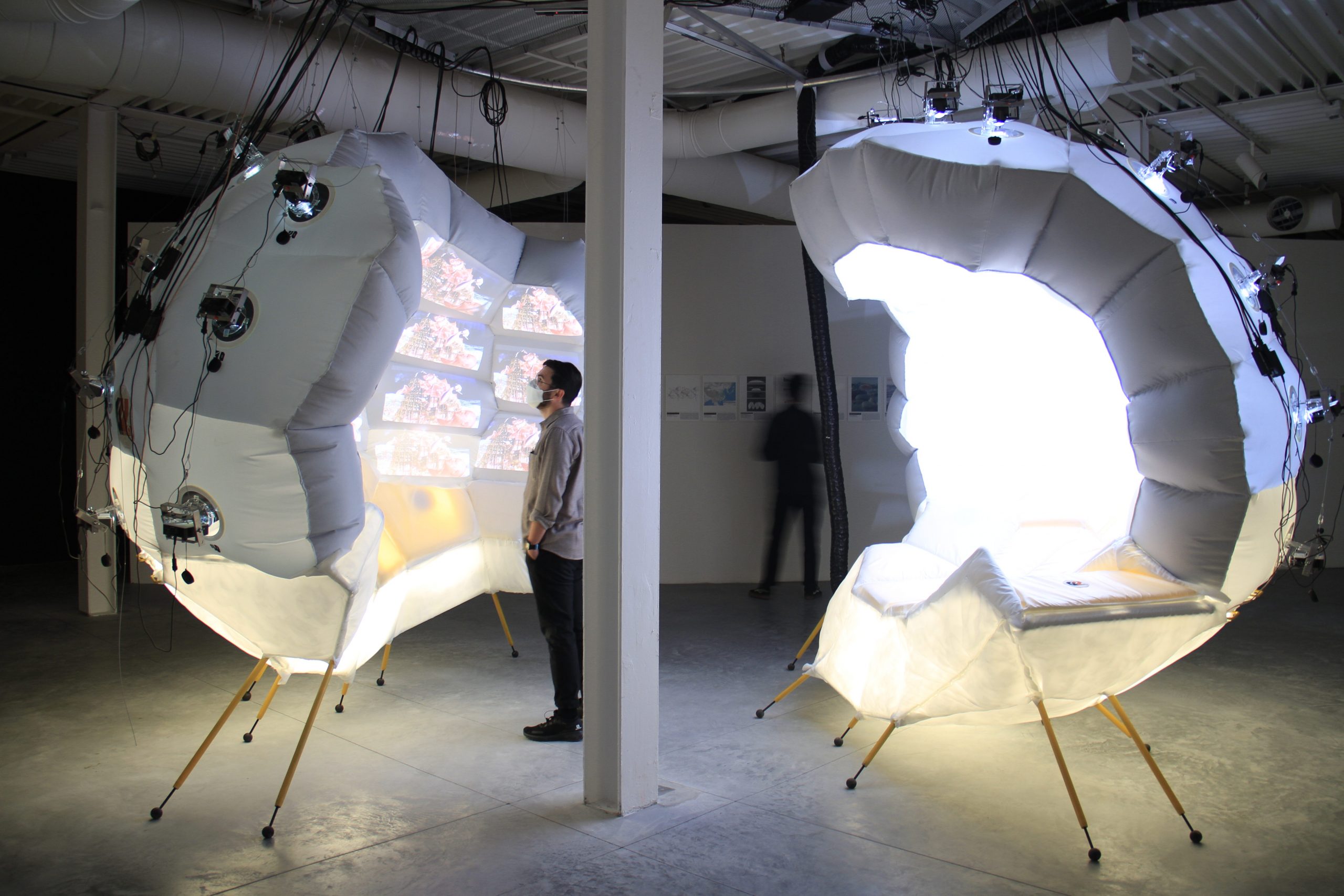 © Princeton University School of Architecture