Oops! Looks like your browser is out of date. Is this page displaying correctly? If not, try upgrading your browser or use a different one.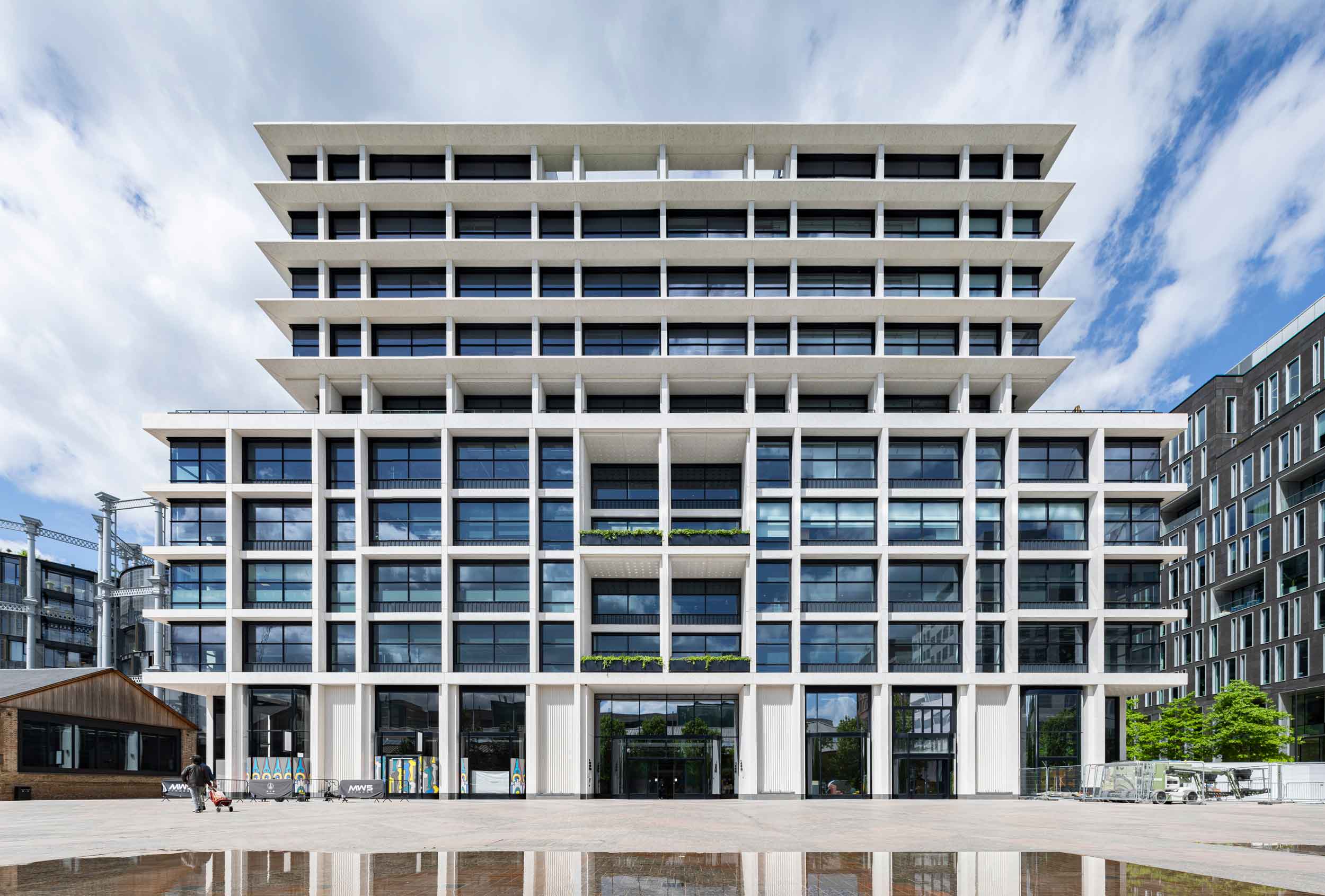 10 Lewis Cubitt Square.
As part of our long-running work with the regeneration of King's Cross, in London, we've now delivered this new mixed-use development at 10 Lewis Cubitt Square. It's designed by architect AHMM, for the King's Cross Central Limited Partnership (KCCLP), and is now home to the global technology company Meta.
A prominent mixed-use development within the masterplanned regeneration of London's King's Cross.
Location
London, United Kingdom
Client
King's Cross Central LP, Argent
Project Value
£ 100 million
The building provides nine floors of workspace, plus a tenth mezzanine level. It also incorporates a diverse mix of retail and leisure spaces, including a 600-seat theatre, throughout the ground and basement levels. Each of these public programmes has its own independent entrance, to connect with the adjacent Lewis Cubitt Square – one of the masterplan's urban focal points.
Inside, everything is designed for occupant wellbeing and adaptability, with generous interior daylighting and expansive outdoor amenity space. Extensive cycling facilities are also provided.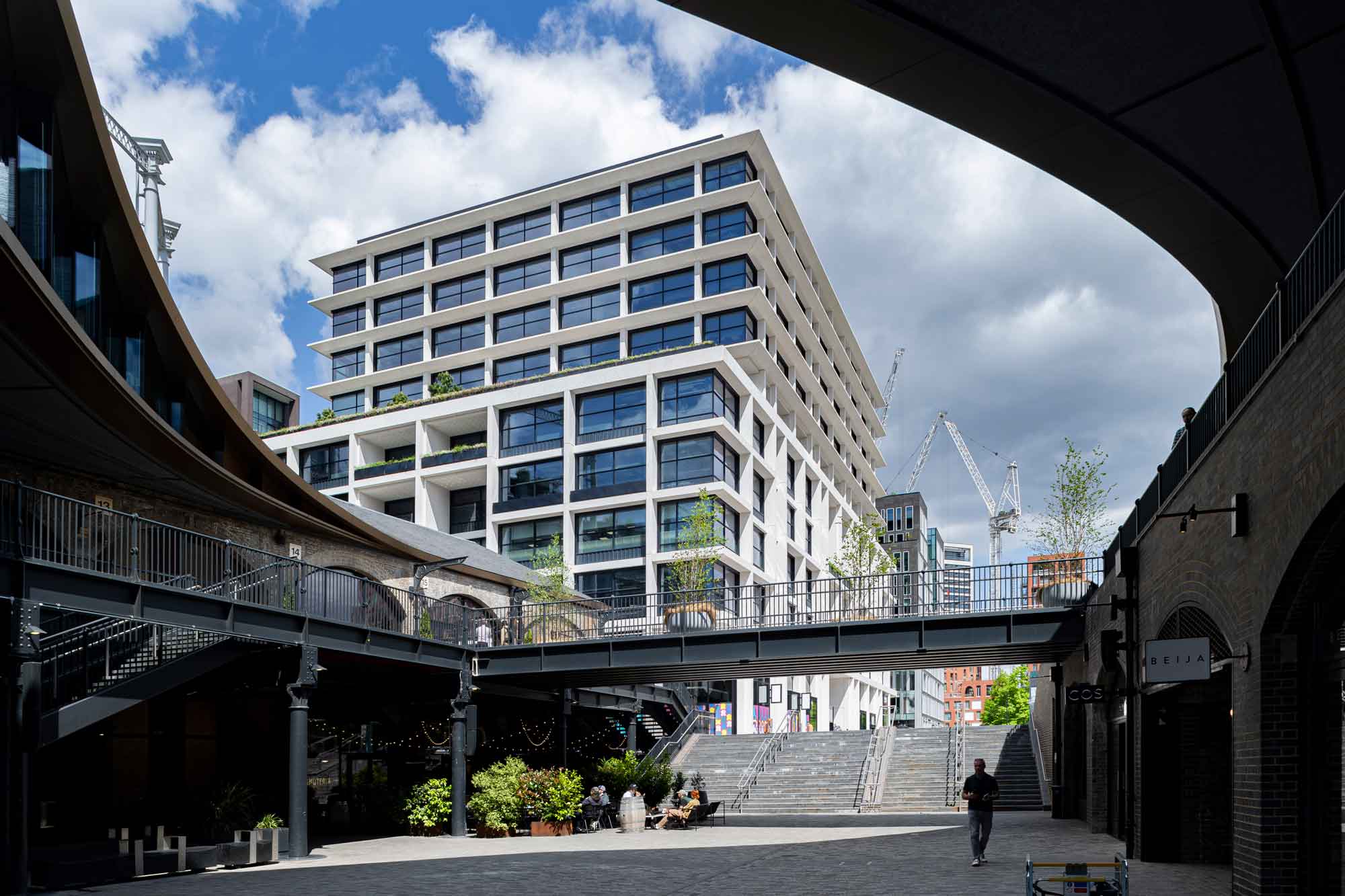 © Mark Harrington / AKT II
Within the workspace floors, AKT II's engineering provides wide spans, high ceilings, column-free corners, and many loggia-like external terraces. At the fifth level, several transfer elements are incorporated to recede the massing in response to the urban context; this creates the external 'wraparound' terrace. The only other transfer elements are the steel beams that bridge the above-ground grids over the basement auditorium space. The building's steel structural frame is furthermore exposed as part of the interior architecture.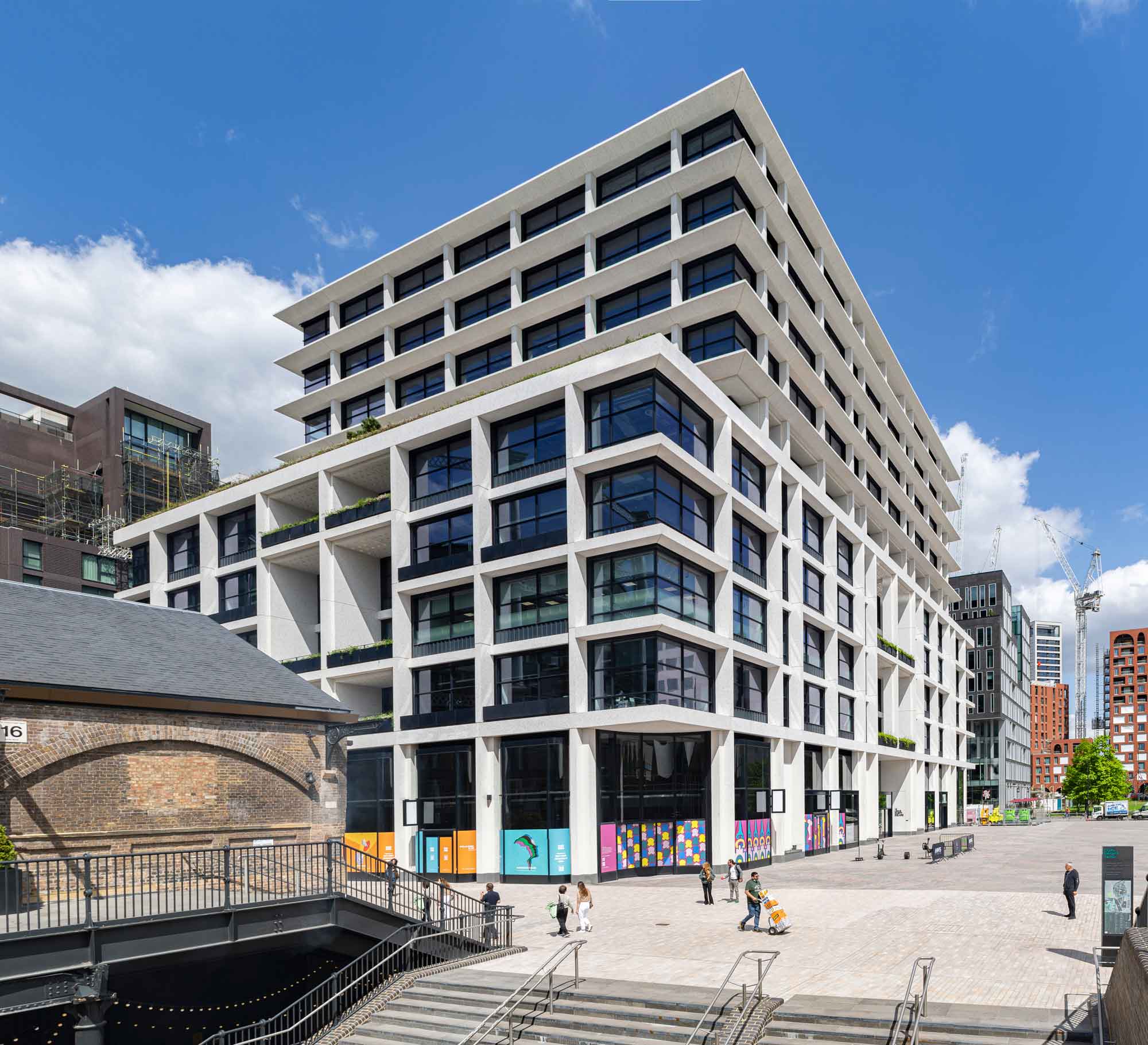 © Mark Harrington / AKT II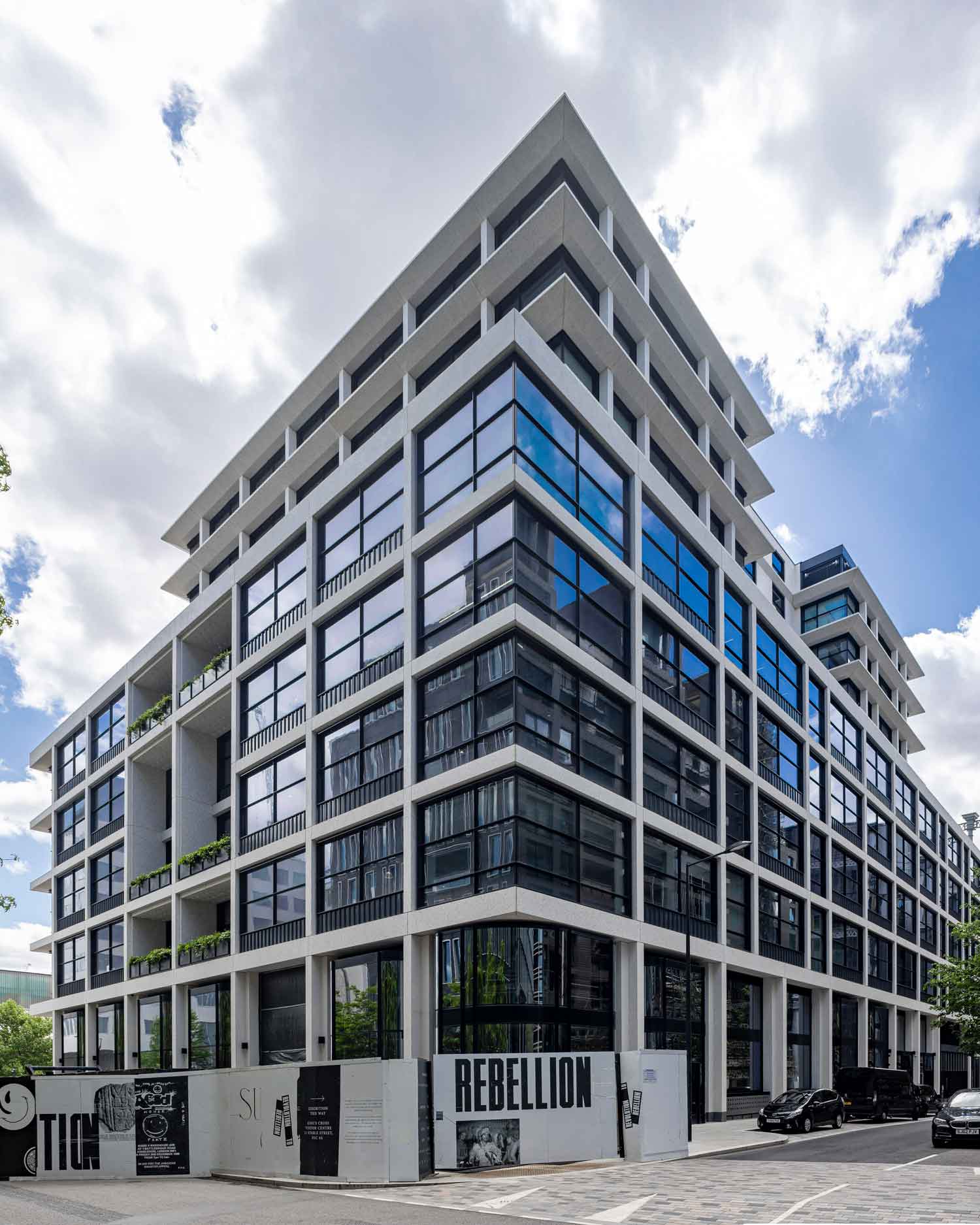 © Mark Harrington / AKT II
Throughout the office levels, the architecture and structure together provide the flexibility for a variety of possible tenancies and configurations. Within each floorplate, the steel structural beams integrate within the slab's depth to create flat soffits. Fabricated-steel cantilevers are also integrated within each extremity to deliver the column-free corners; these span for the floorplate's final 5.3 metres to support both the slab and the immediate facade area.
A side-wide sustainable-drainage system (SuDS) is also integrated. Rainwater is harvested and stored within the basement, to reduce the development's water use as well as its rainwater run-off.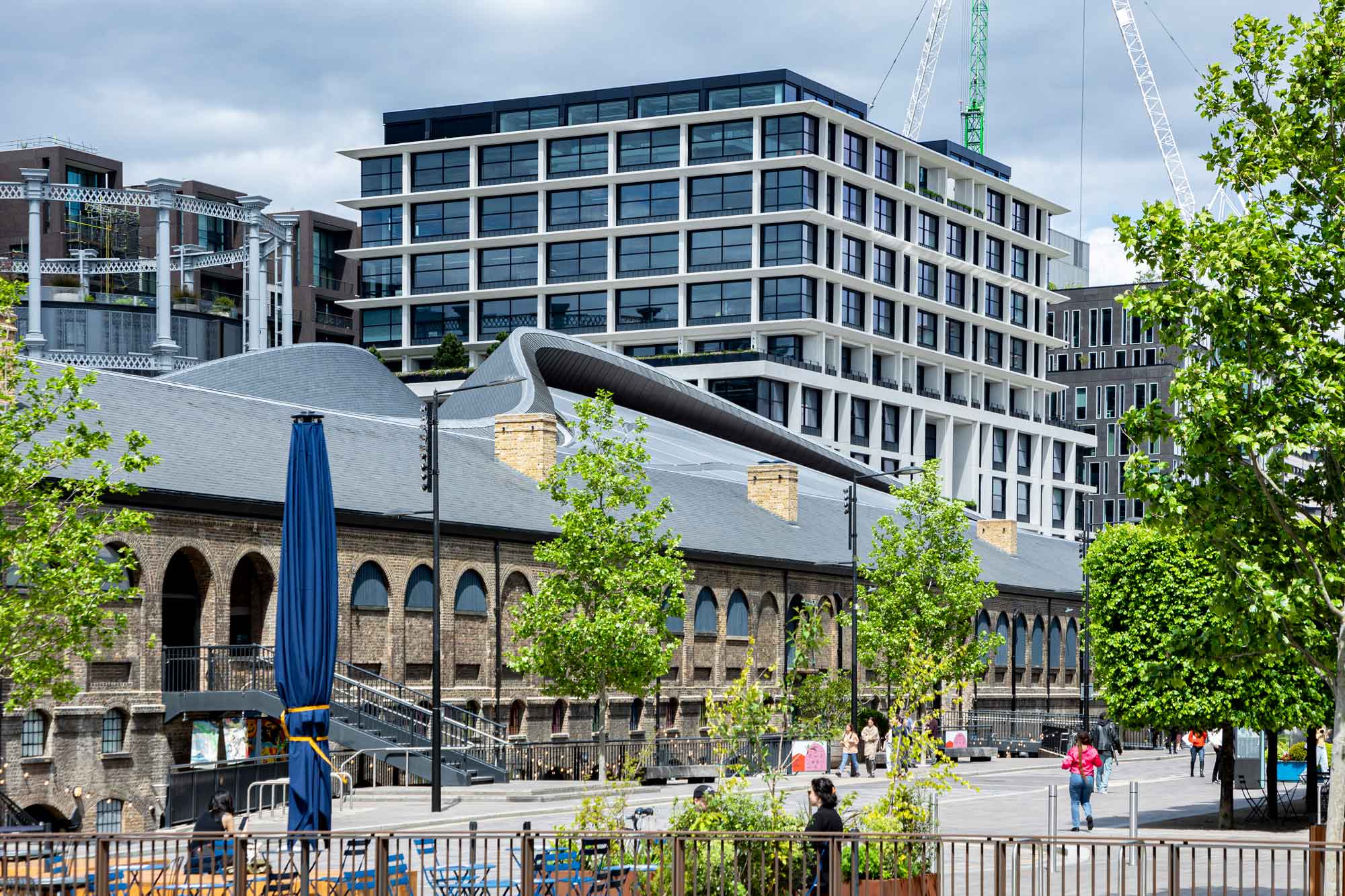 © Mark Harrington / AKT II