Oops! Looks like your browser is out of date. Is this page displaying correctly? If not, try upgrading your browser or use a different one.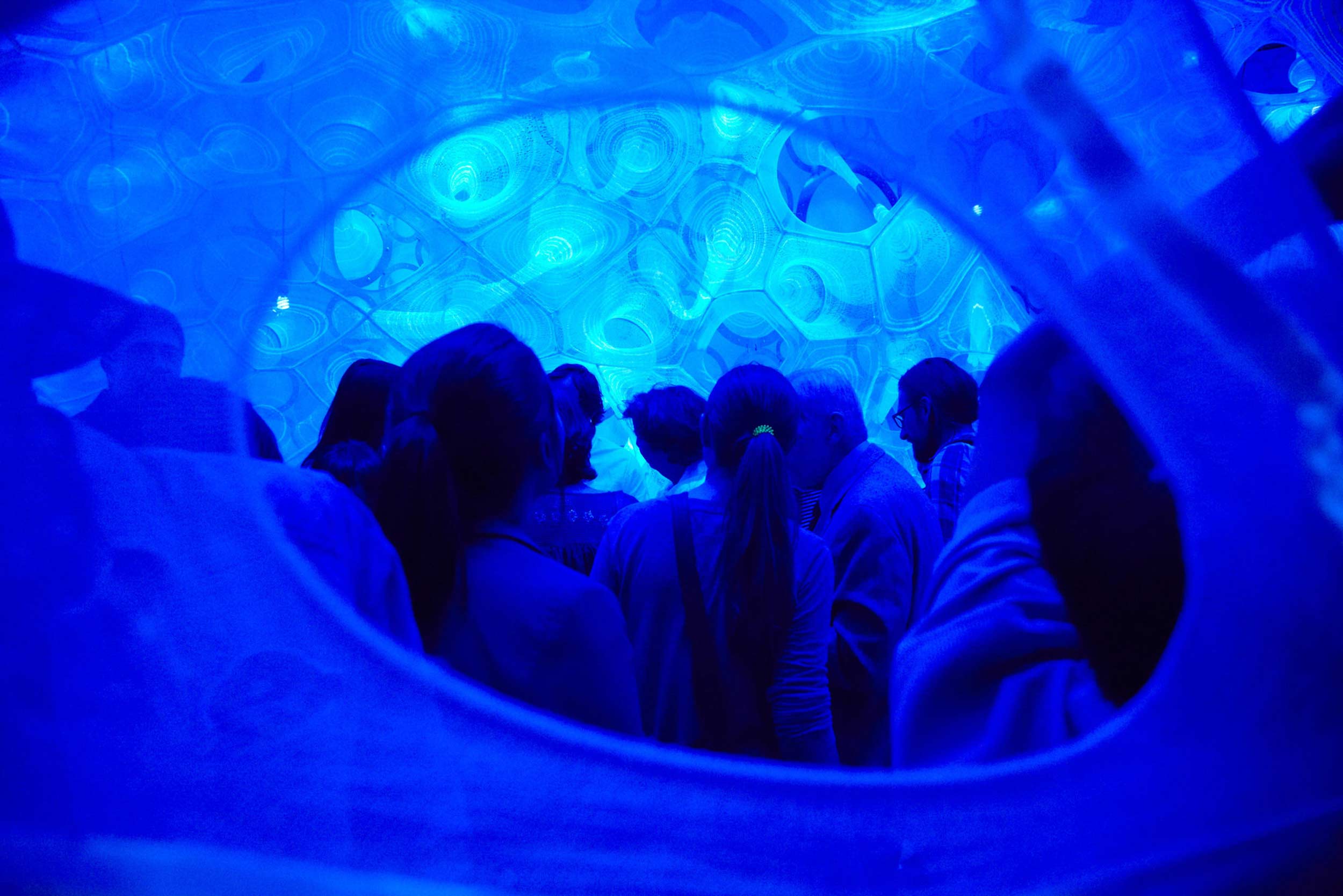 Nike – myThread Pavilion.
For each of the six designers and artists approached by Nike Inc, the brief was the same: to create a novel artwork influenced by the core benefits of the Flyknit shoe. Chosen to represent the US, Jenny Sabin – a known innovator in her field – created a piece by drawing links between body movement, biodata, and mechanics, and knitted material. Our team provided guidance in the structural aspects of this delicate and dynamic design.
Innovative pavilion for the launch of the 2012 International Nike FlyKnit Collective in NYC
Architect
Jenny E. Sabin, Jenny Sabin Studio
Project Value
confidential
The pavilion, which took centre stage at the Nike Bowery Stadium in New York, was conceived as a way of illustrating the links between sport, textile fabrication, and architecture. Sabin and her team at Jenny Sabin Studio first set up a number of workshops to generate data via Nike FuelBands from participants in various activities, and then fed this back into the structural design. In this way it was possible to convey various hidden qualities and patterns within the data sets. Creating an almost organic, cellular formation, the pavilion comprised soft digitally knitted material and aluminium rings.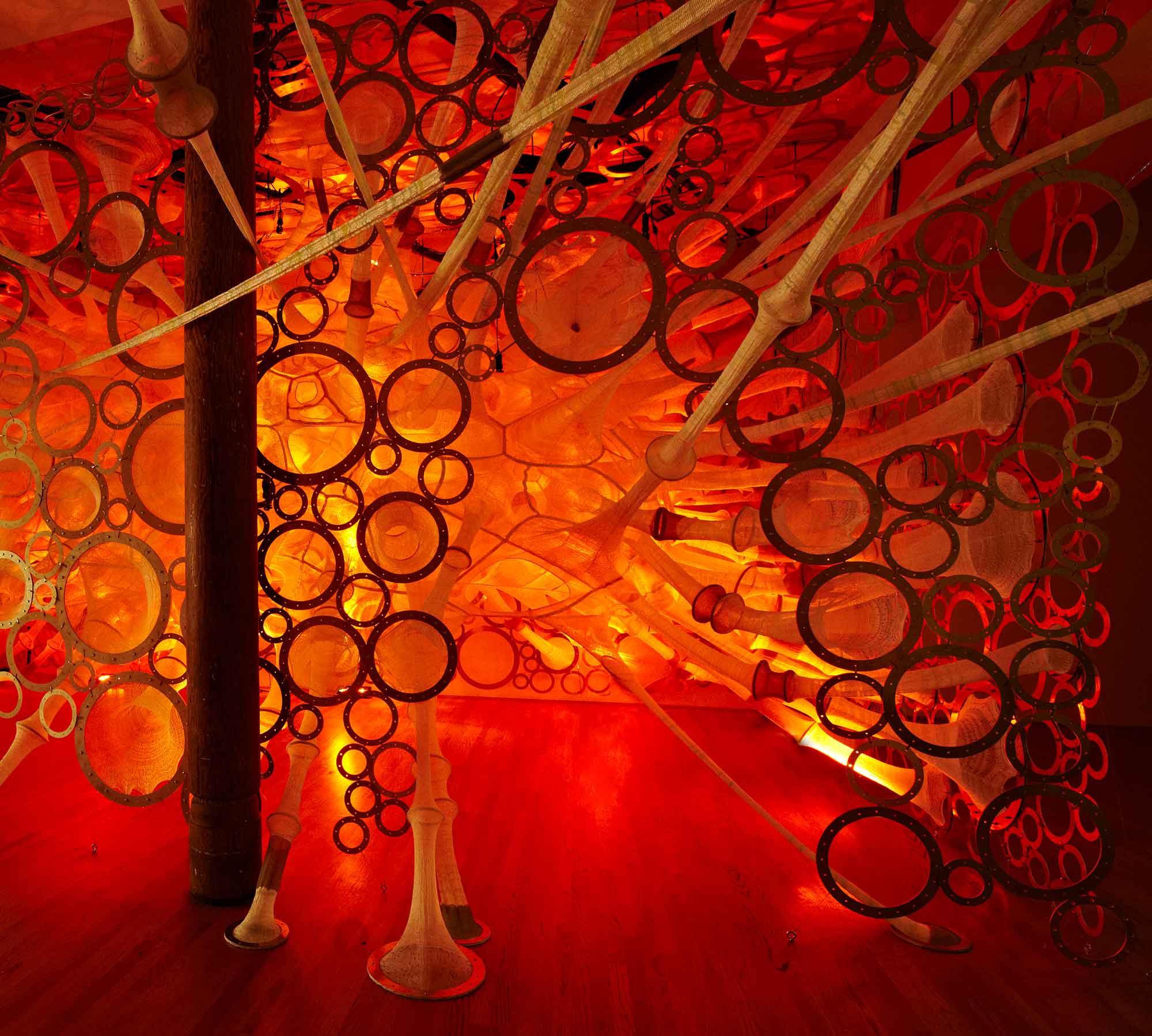 © Courtesy of Jenny Sabin Studio
The material was created through a process called 'WHOLEGARMENT' knitting innovated by Shima Seiki, knitted concentrically in the same manner as a spider might weave its web. The tension formed between the volumetric surface composed of the knitted cells and cones and the tensioned net of laser-cut aluminium rings offered support to the structure. In places, the pattern becomes more complex, signifying an increase in activity based on the data collated, whilst in other areas the density of aluminium rings reduces.
Patterns were converted into geometry, having been developed from initial prototypes. AKT II provided structural analysis and form-finding on the project. The resilient knitted material was able to respond to the movement of visitors and changes in light, being solar active and photoluminescent.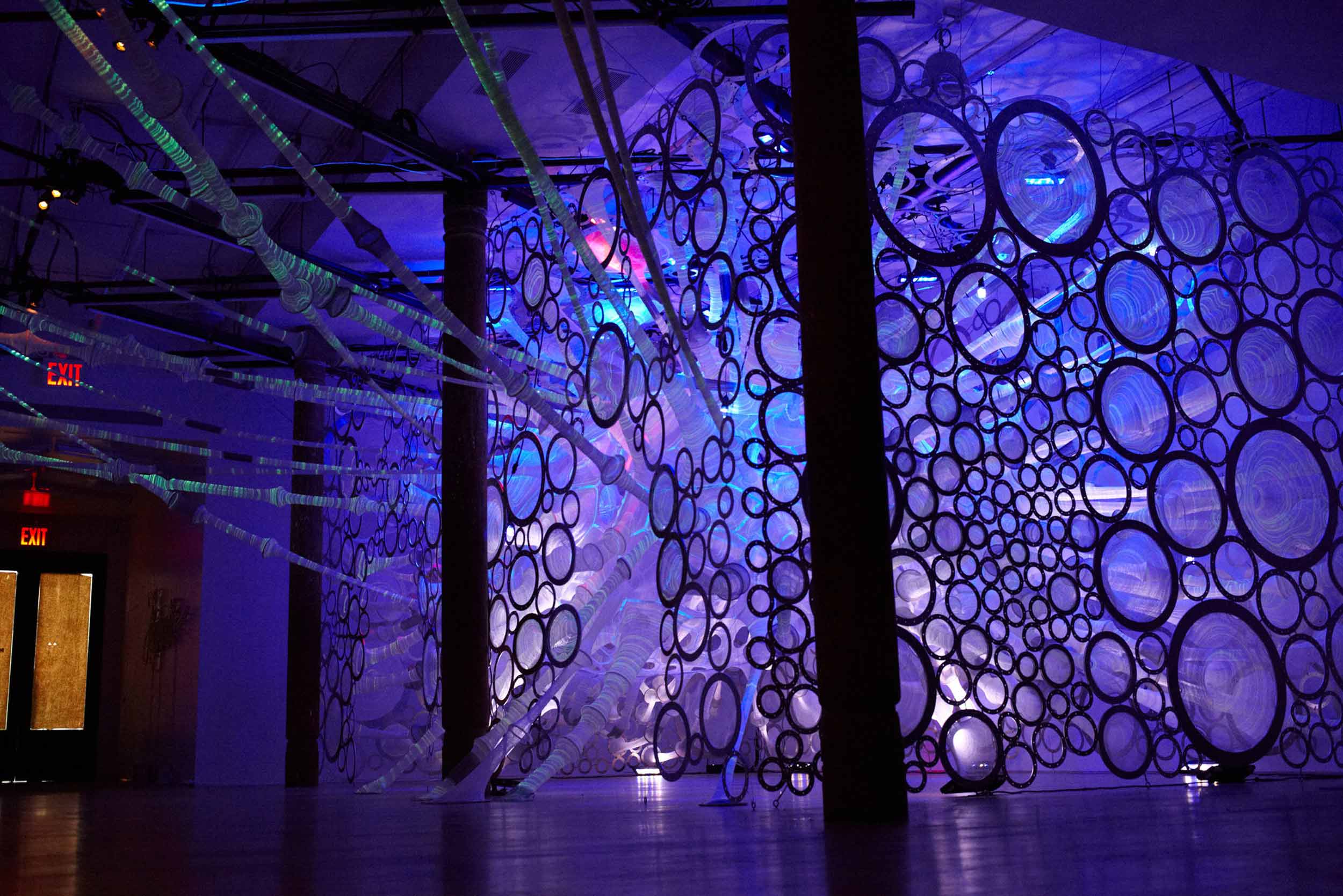 © Courtesy of Jenny Sabin Studio