Oops! Looks like your browser is out of date. Is this page displaying correctly? If not, try upgrading your browser or use a different one.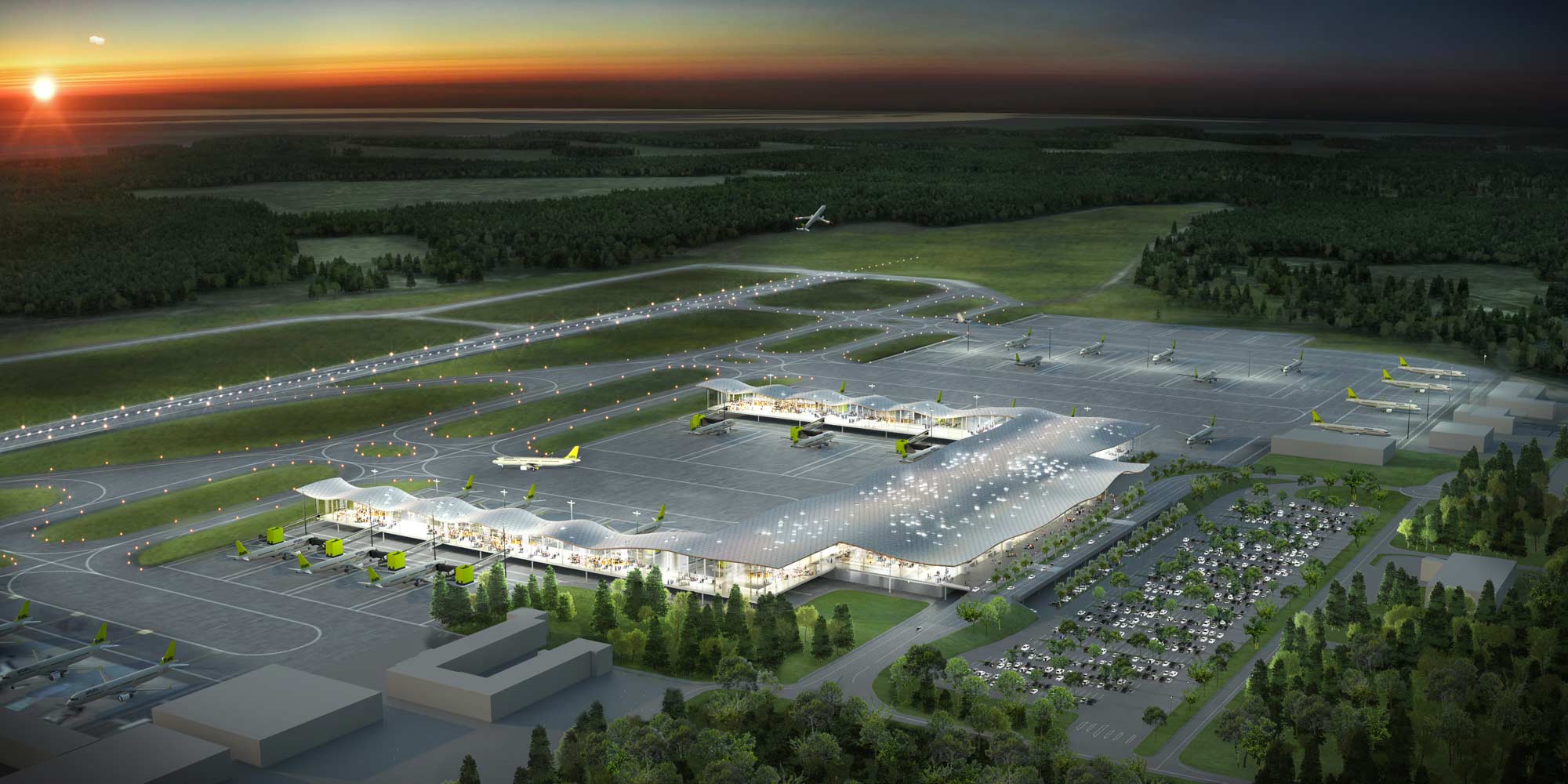 Riga Airport – airBaltic Terminal.
Haptic Architects, in collaboration with Nordic and Griff Arkitektur, approached us to assist them with the development of the structural strategy of the new airBaltic terminal buildings at Riga Airport in Latvia. Dubbed the 'Gateway to the Baltics', the new terminal building needed to be sympathetic to the surrounding rolling countryside, forests and green, open spaces and still deliver a modern terminal building which catered for the aspirations of the airline and the needs of the passengers.
Modern, sympathetically designed terminal buildings for AirBaltic on the outskirts of Riga
Architect
Nordic – Office of Architecture
Project Value
€92 million
In essence, the exemplar of sustainable design should deliver a functional, efficient and comfortable terminal and an architectural design that reflects the unique face of Latvia.
The winning proposal prepared by the architects and AKT II was selected from 125 entries from 70 different countries in an open international competition. The design features a roof that is influenced by the gently undulating forms of the Latvian landscape, with peaks and troughs responding to the structure's internal configuration and passenger flows.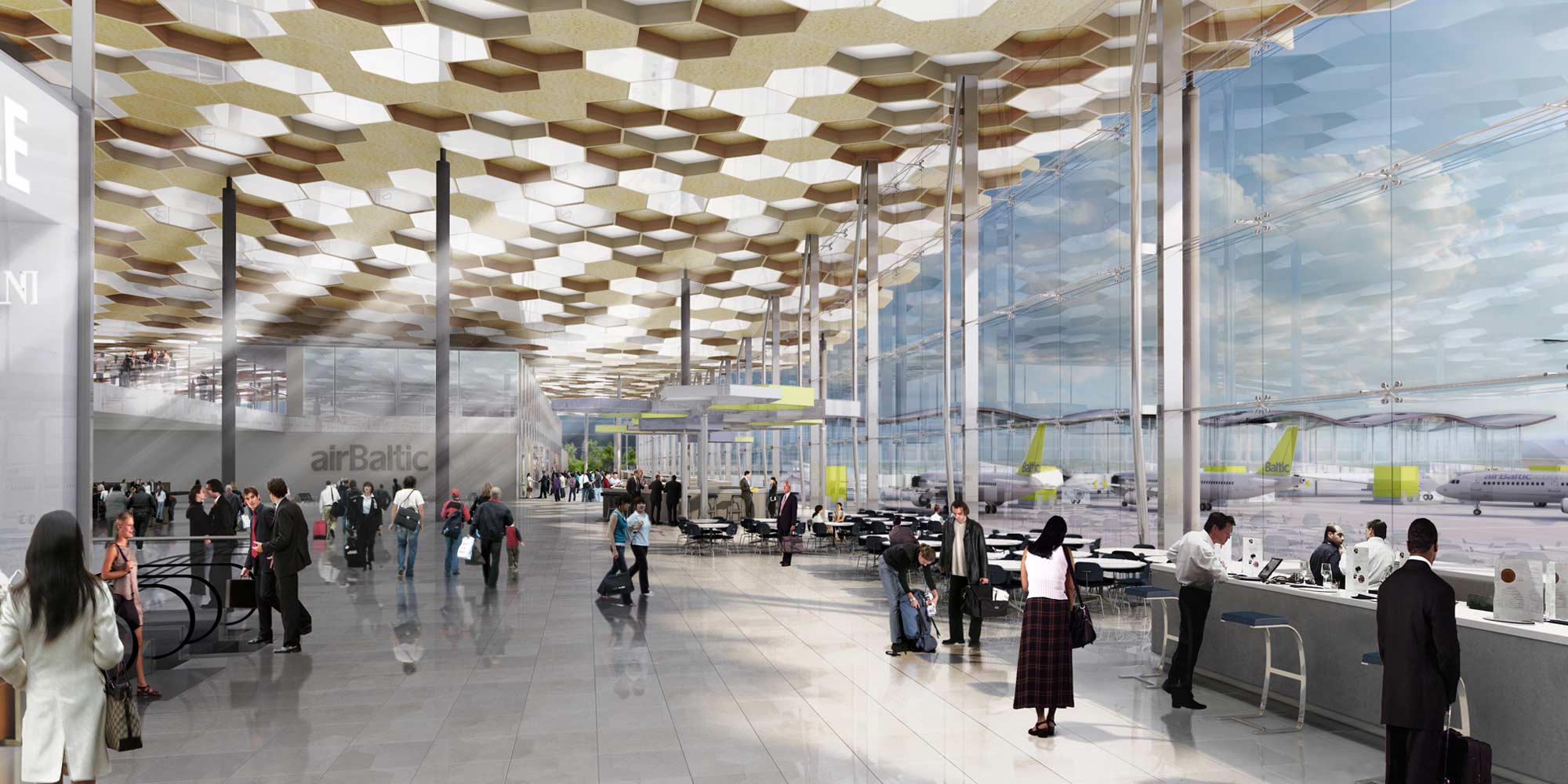 © NSW Architects & Planners Inc.
The roof structure is comprised of steel trusses orientated diagonally across the terminal building; these are supported on columns at the façade line and by two internal columns creating internal spans of approximately 30 m. Thus, the internal column bays are 30 × 18 m, creating a very flexible space. The trusses cantilever from the façade to support the overhanging roof. Spanning between the trusses are steel cellular beams at approximately 7.5 to 9 m centres, which support insulated structural roof panels.
The columns extend to support roof trusses spaced at 18 m centres along the length of the terminal. The columns can be reinforced concrete or steel. The stability system is proposed to consist of moment frames created by the truss and columns or by the columns cantilevering, thus avoiding internal bracing or shear walls. This gives greater flexibility for the layout of the airport.
The internal roof soffit is composed of a hexagonal timber grid shell constructed from sustainably-sourced timber, with infill of timber or clear and diffused glass used to control the daylighting and acoustics of the space, while providing dramatic variation across the entirety of the roofscape.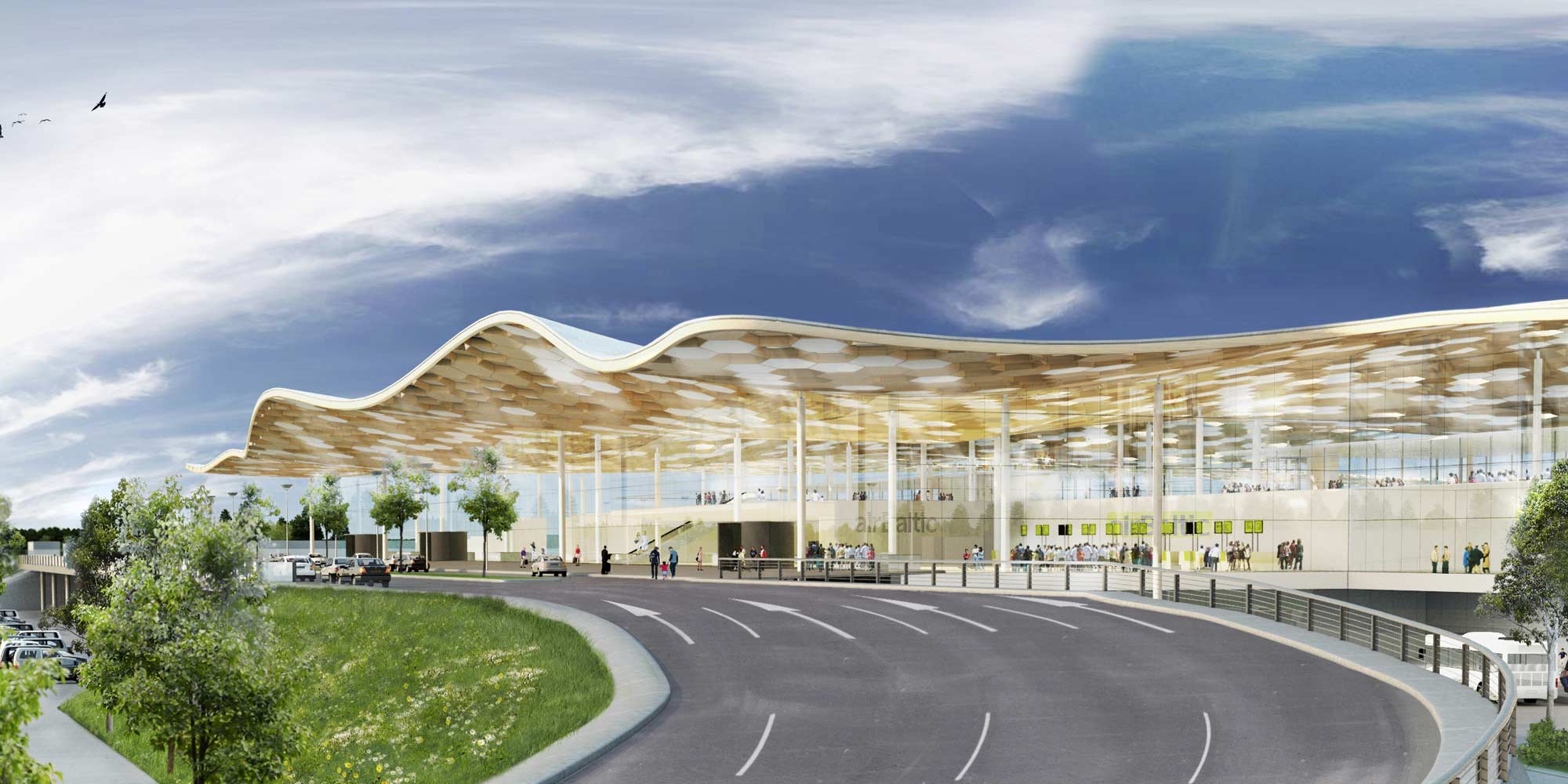 © NSW Architects & Planners Inc.