Oops! Looks like your browser is out of date. Is this page displaying correctly? If not, try upgrading your browser or use a different one.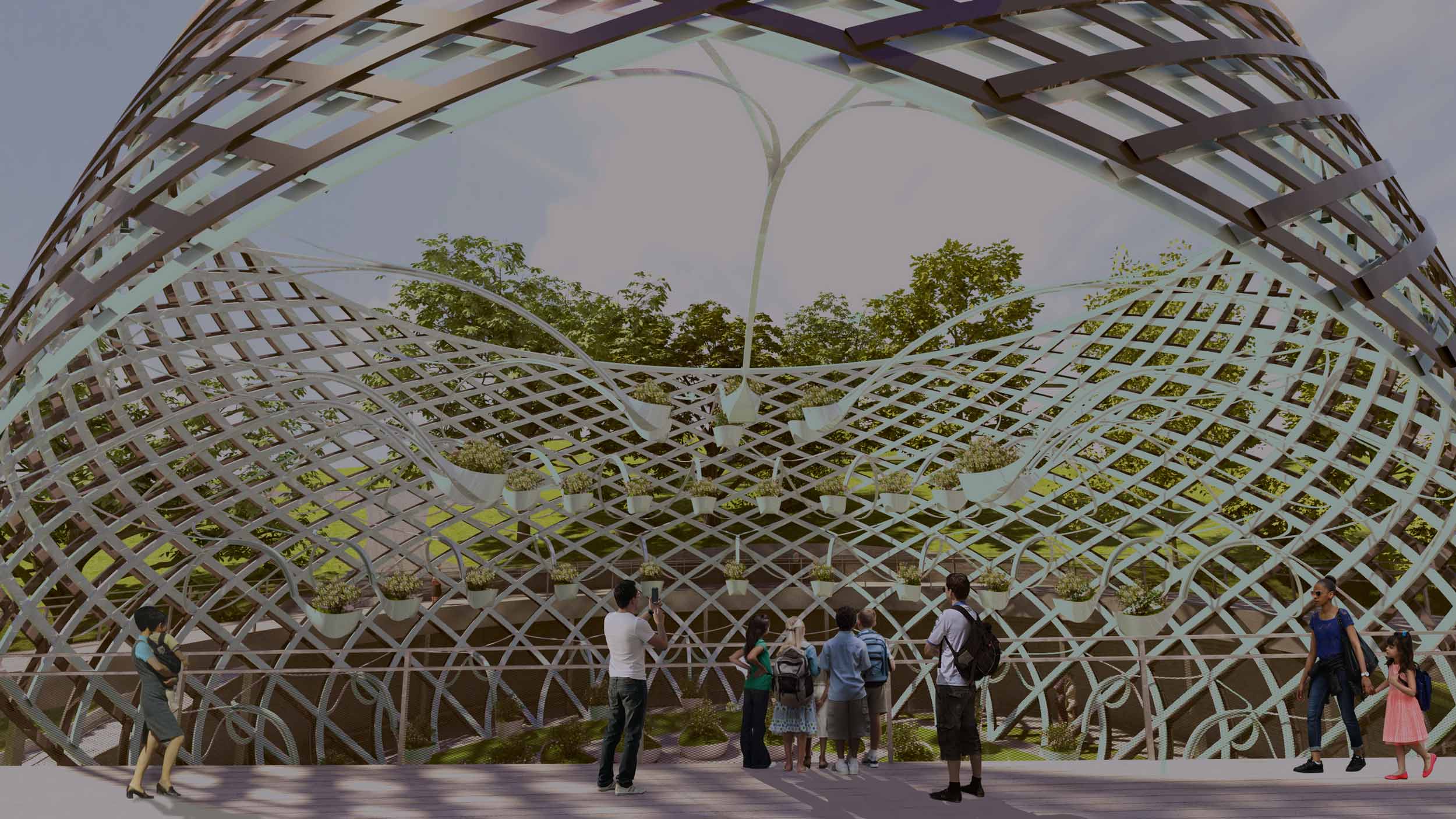 Sentosa Sensoryscape.
On Singapore's Sentosa island, these three parametric vessel structures define a new 'multisensory' public parkland. They're conceived by the London-based architect Serie and the Singapore-based Multiply Architects, together with AKT II, and are now being delivered by a local team that's led by Axis Architects, for the Sentosa Development Corporation.
A trio of parametric vessel structures that define a new 'multisensory' public parkland.
Client
Sentosa Development Corporation (SDC)
Architect
Serie (design)
Multiply Architects (design)
Axis Architects (executive)
Project Value
SGD 90 million
Floor Area
Up to 430m² each vessel
The new, three-hectare park forms part of the local 'Sentosa 2030' tourism development strategy. It extends from the island's urban centre to the forests and beaches that run along the southern coastline, and in doing so transforms a former pedestrian artery into a 'destination' ecological experience. The new landscape activates all five of the human senses through attractions including 'polyphonic water features', mists, fragrant flowers, and uniquely scented plants, in addition to the new statement architecture. Everything is designed for universal accessibility.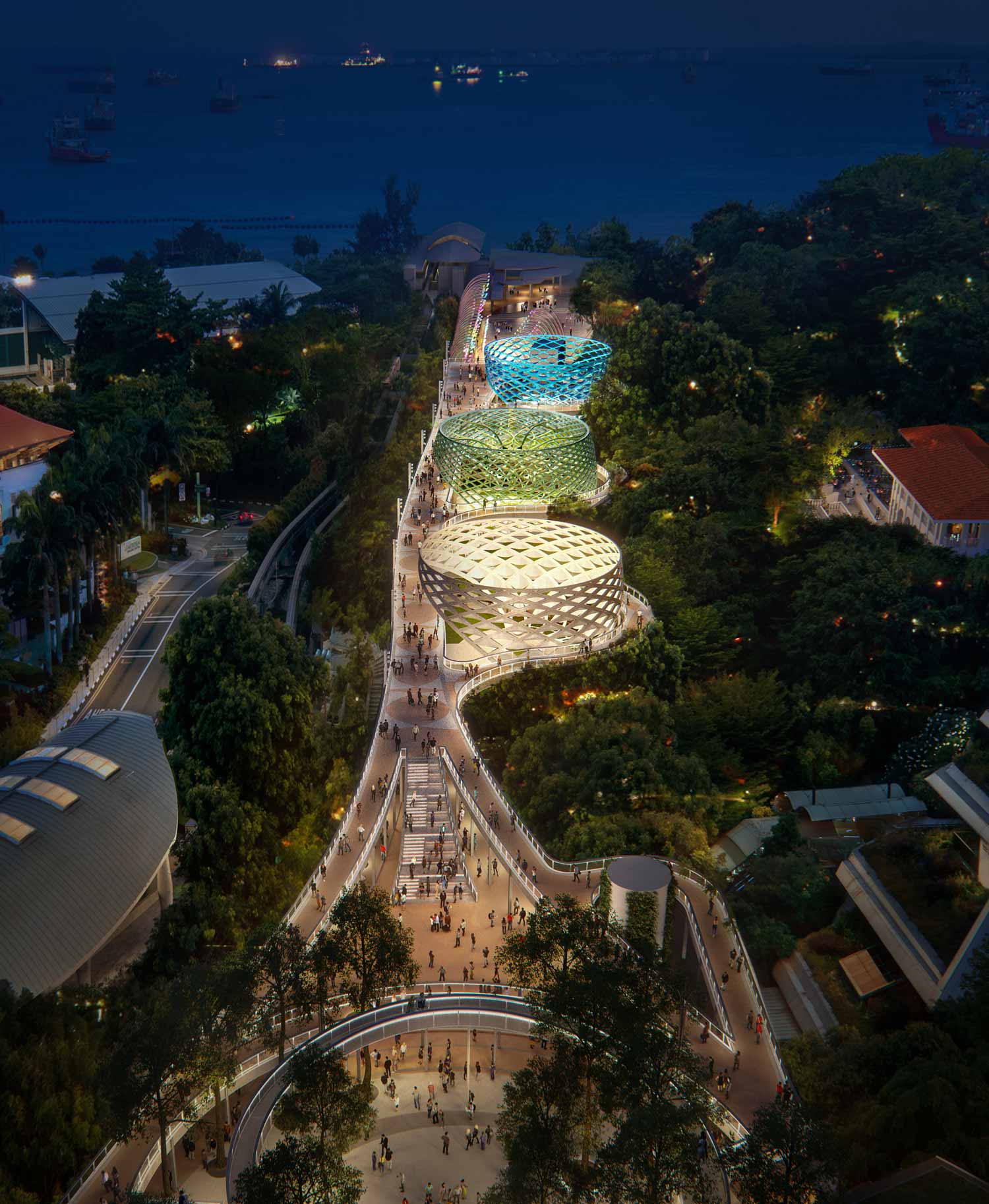 Through a parametric process, AKT II and Serie have together created a singular design language that unifies the three vessel structures while at the same time allowing their individual differentiation. Each structure embodies a unique curvature and geometry. The vessels together draw inspiration from traditional grid-shell structural forms, and have been optimised computationally to provide an efficient and holistic architectural-structural solution while at the same time achieving a sustainable materiality and construction, and without compromise to their finish quality nor their long-term urban durability.
The Sound Vessel and Smell Vessel are both constructed from continuous steel plating, in modularised sections, which has been woven in two contrasting directions. The Touch Vessel conversely is built from pre-cast concrete panelling, with a repetitive fabrication. Across all three of these structures, all of the components are fabricated off-site and then simply delivered to the site in their order of installation. Everything is provided in lightweight elements that can be simply craned onto the foundation platforms and connected together, with minimal temporary works required.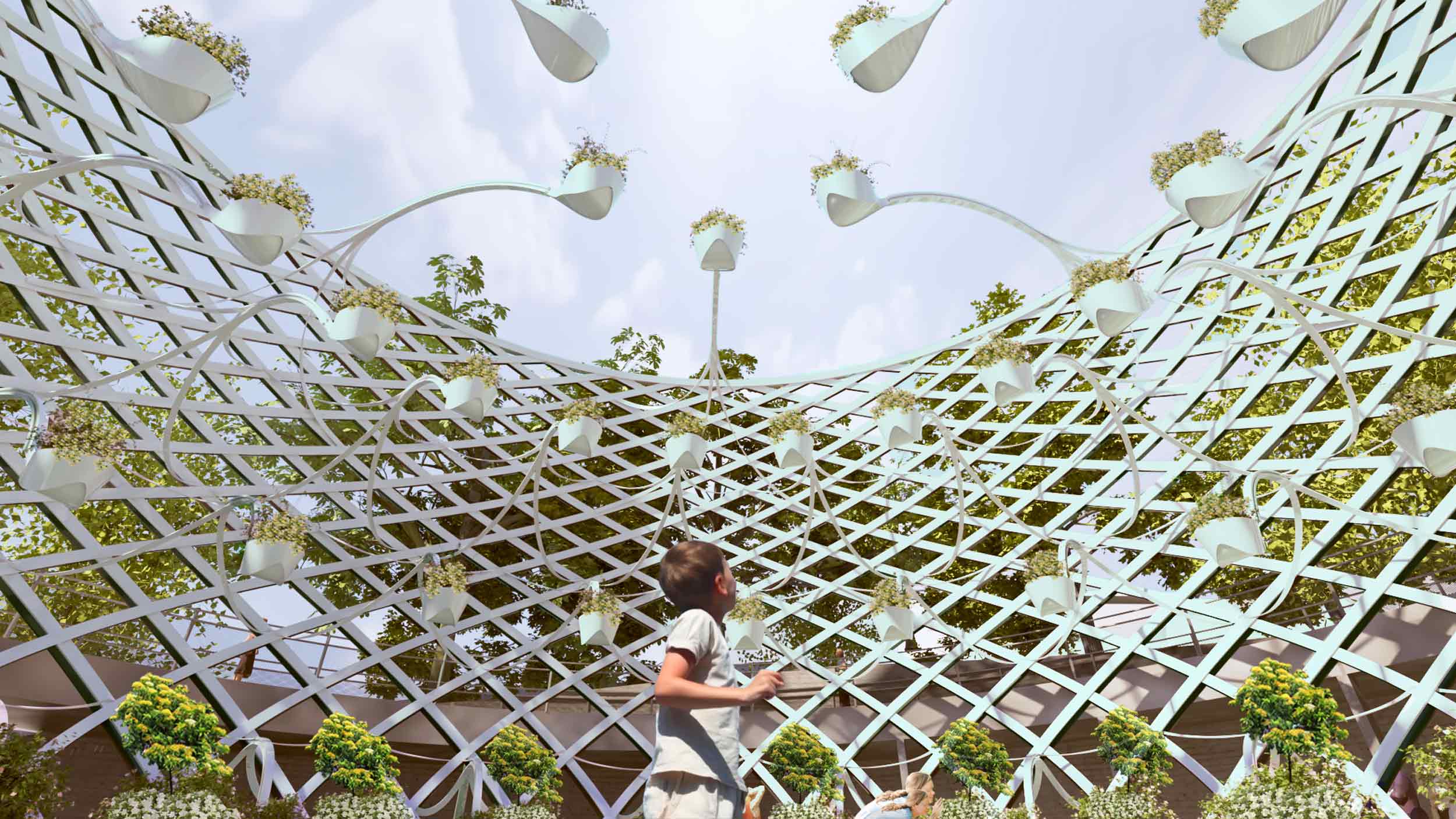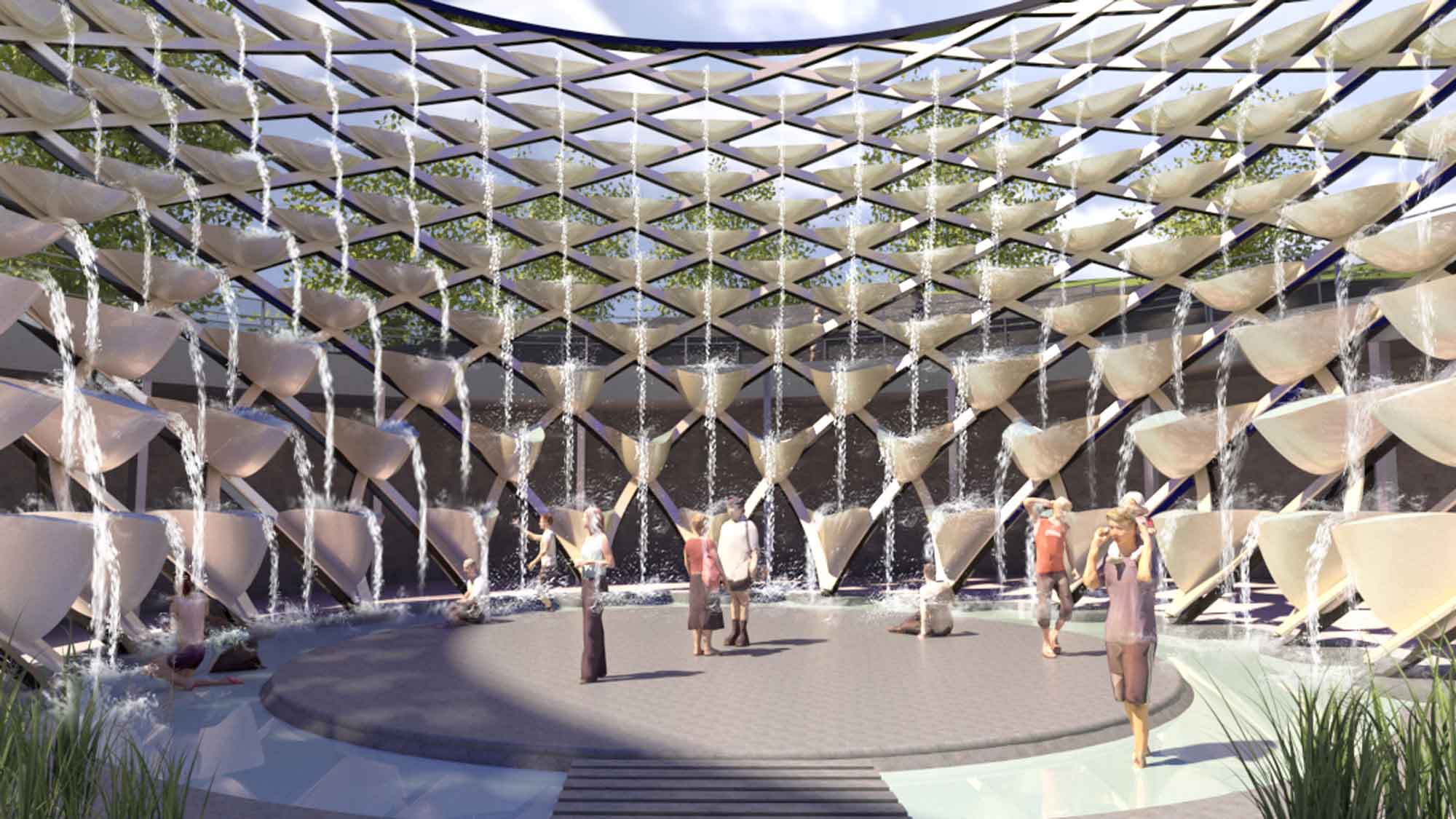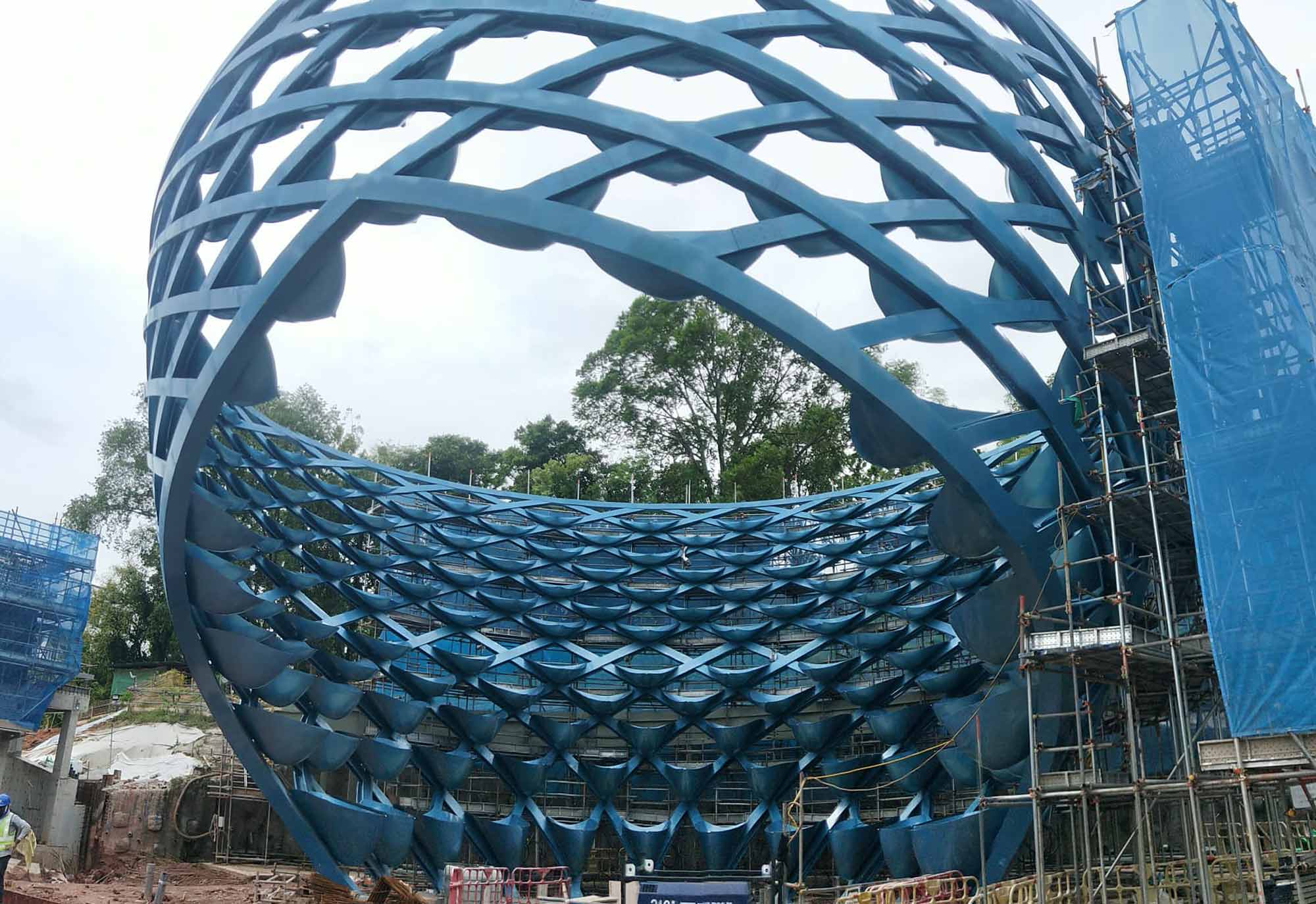 © Christopher Lee / Serie Architects