Oops! Looks like your browser is out of date. Is this page displaying correctly? If not, try upgrading your browser or use a different one.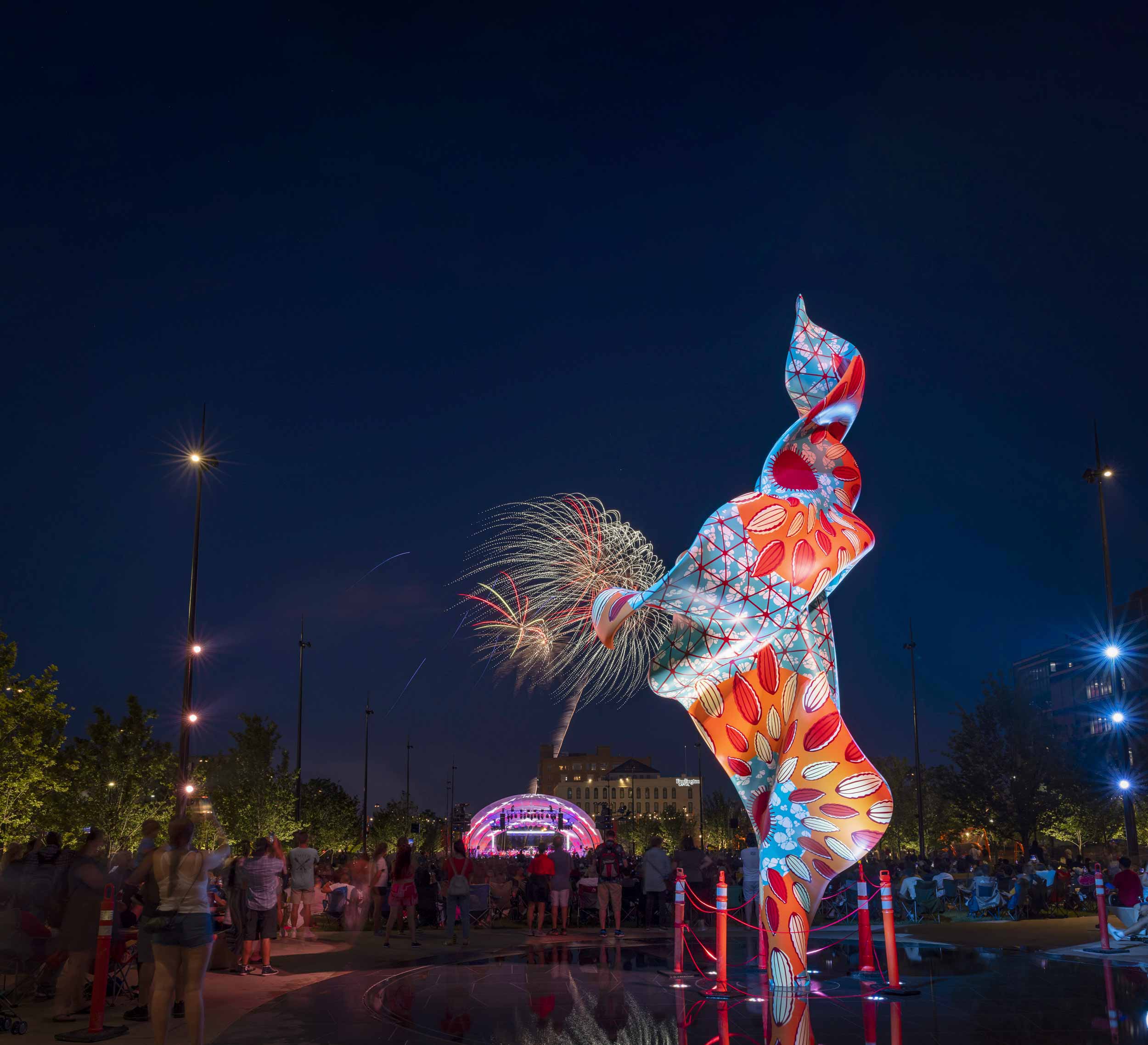 Wind Sculpture (TG) I.
'Wind Sculpture' is a series of public artworks that are designed by the Nigerian-British contemporary artist Yinka Shonibare CBE. AKT II has joined the artist for this iteration, which is installed permanently in Omaha as an open public artwork at the city's Leahy Mall.
A gravity-defying public artwork realised through cutting-edge computational design techniques.
Client
Metropolitan Entertainment & Convention Authority (MECA) Omaha
Artist
Yinka Shonibare CBE
Across painting, sculpture, photography, film and installation, Shonibare's work examines issues of race, class and cultural identity amidst the tangled interrelationship between Africa and Europe; the work reflects on centuries of global trade, migration, politics, and cultural exchange, and in ways that playfully invite the audience to look beyond appearances and assumptions.
The Wind Sculpture series – this Omaha iteration forms part of the 'TG' third generation – is about manifesting the invisible: we can't see the wind, but we can see its effects. Here, the dynamic movement of a piece of cloth in a gust of wind is rendered at a monumental scale, and is painted to resemble waxed batik fabric, with a dazzling colour and voluptuous shape that together evoke a feeling of freedom, and possibility.
The sculpture achieves a remarkable energy and balance, within its gravity-defying form, through modern methods of design and fabrication. From the early design stage, AKT II's team worked closely with the fabricator to coordinate the most efficient locations for the weld interfaces between the sculpture's aluminium sections. The overall shape has furthermore been carefully controlled so that it's safe for children to access, and play around, the artwork's ground level.
Everything was coordinated in 3D, together with the fabricator. AKT II's team also designed the multifunctional transportation rig that was used to safely cradle the artwork's refined form from the welding facility to the painting studio and finally to the final permanent site in Omaha.