Oops! Looks like your browser is out of date. Is this page displaying correctly? If not, try upgrading your browser or use a different one.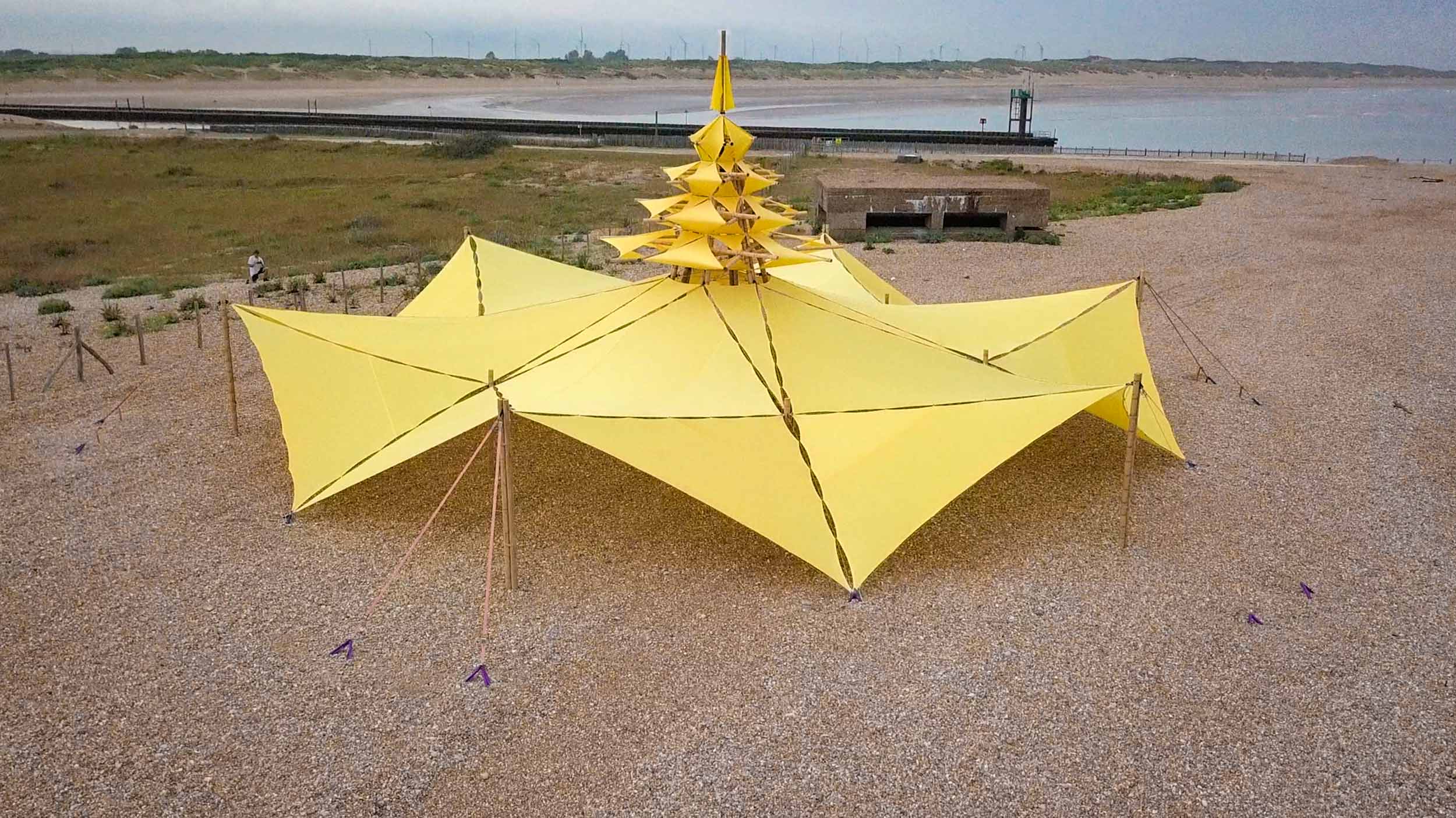 The Beacon.
'The Beacon: A Vanished Sea for Climate Art' is a demountable public artwork that's been initially delivered on a beach at Rye Nature Reserve. The inhabitable sculpture is designed by artist Joseph Williams, and forms part of the interdisciplinary Climate Art programme that's led by Rye's forthcoming Bridgepoint arts centre.
An architectural installation that empowers a natural material – bamboo – through modern computational design.
Location
Rye Harbour, United Kingdom
Artist
Joseph Williams, of Bamboology
AKT II's computational designers have worked closely with Joseph to develop the structure, which was then hand-built by Joseph's Bamboology team.
The eight-metre-tall artwork explores themes of transience; the design references Rye Harbour's yellow-horned poppy flower, which blooms for just one day, while also highlighting that the beach and flower are both already being lost to global heating. The project additionally showcases the sustainable, architectural potential of bamboo, with a vibrant, sheltered outdoor space for community activities.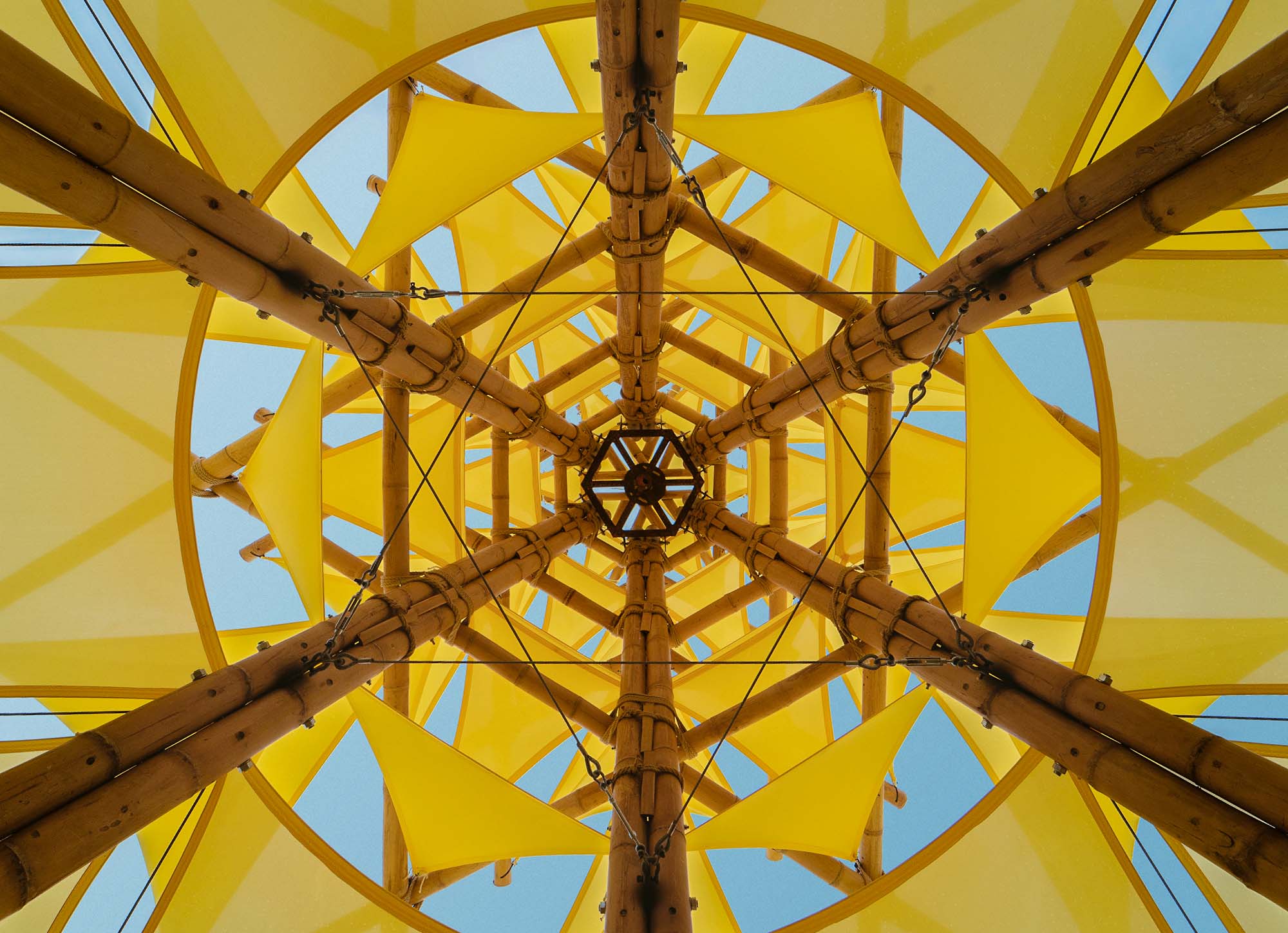 Bamboology's ethos requires the sculpture to touch the ground lightly – as if 'dancing on the earth'. We accordingly supported Joseph with the design of a totally bespoke, removeable ground-anchor system that leaves no lasting footprint at the natural site. We also gathered some empirical data, through on-site testing, to enhance this process.
The stretchy yellow fabric meanwhile contributes strong aesthetic qualities of colour and smoothness, but it's a relatively new material that isn't yet typically used in outdoor settings. So to verify the fabric's performance, we specified a bespoke material-testing process, which was then performed at Joseph's workshop, together with some computational analysis. We were then able to model and optimise the canopy's structural integrity ahead of its construction amidst the windy, coastal site.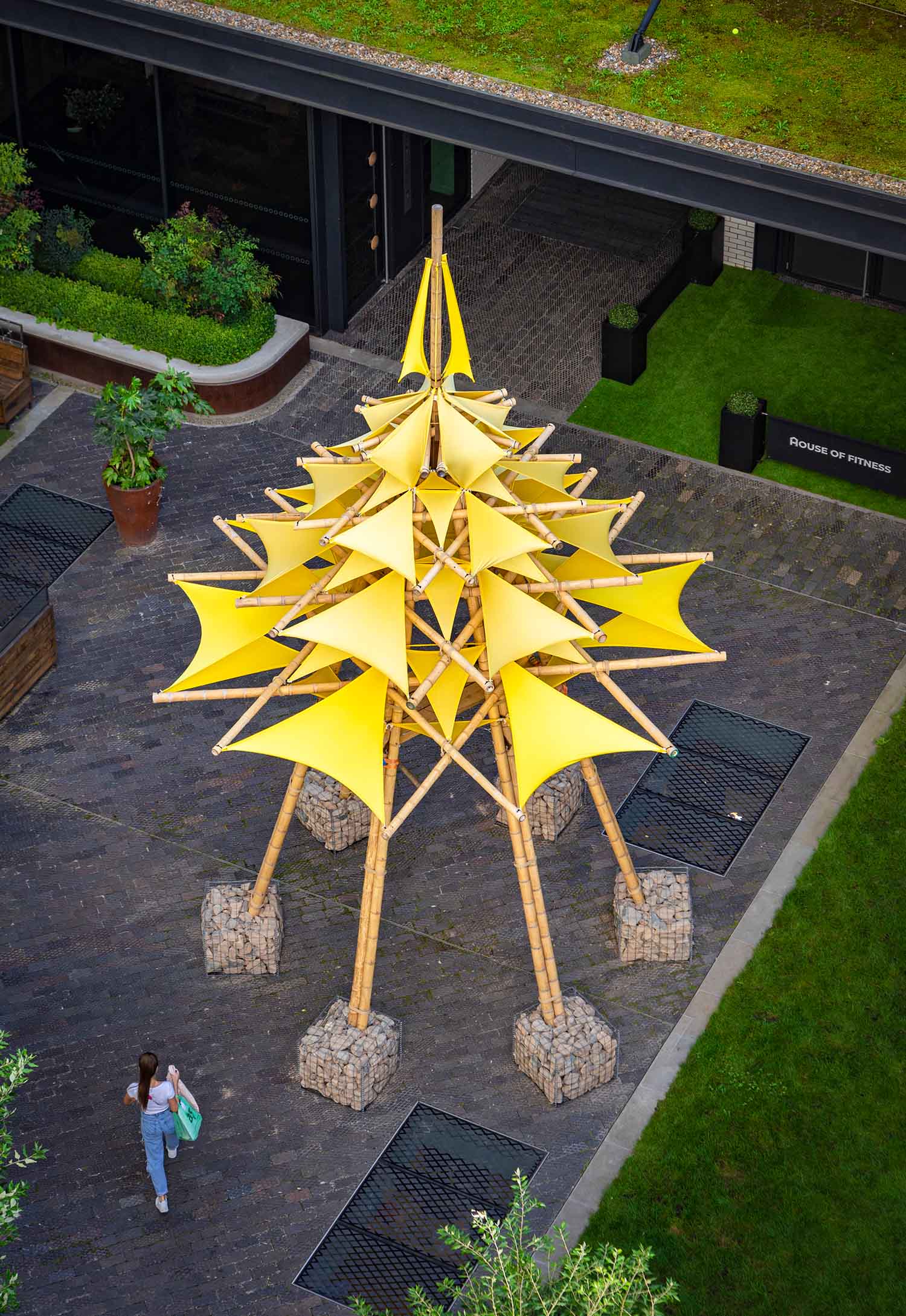 Finally, the greatest challenge was the (bamboo) frame's structural connections. We again developed these with Joseph, and through computational techniques, to arrive at a responsive combination of bespoke, engineered fixings together with Joseph's proprietary, traditional lashings.
Altogether, the project shows how we can leverage high-tech software to increase the engineering performance of low-tech materials.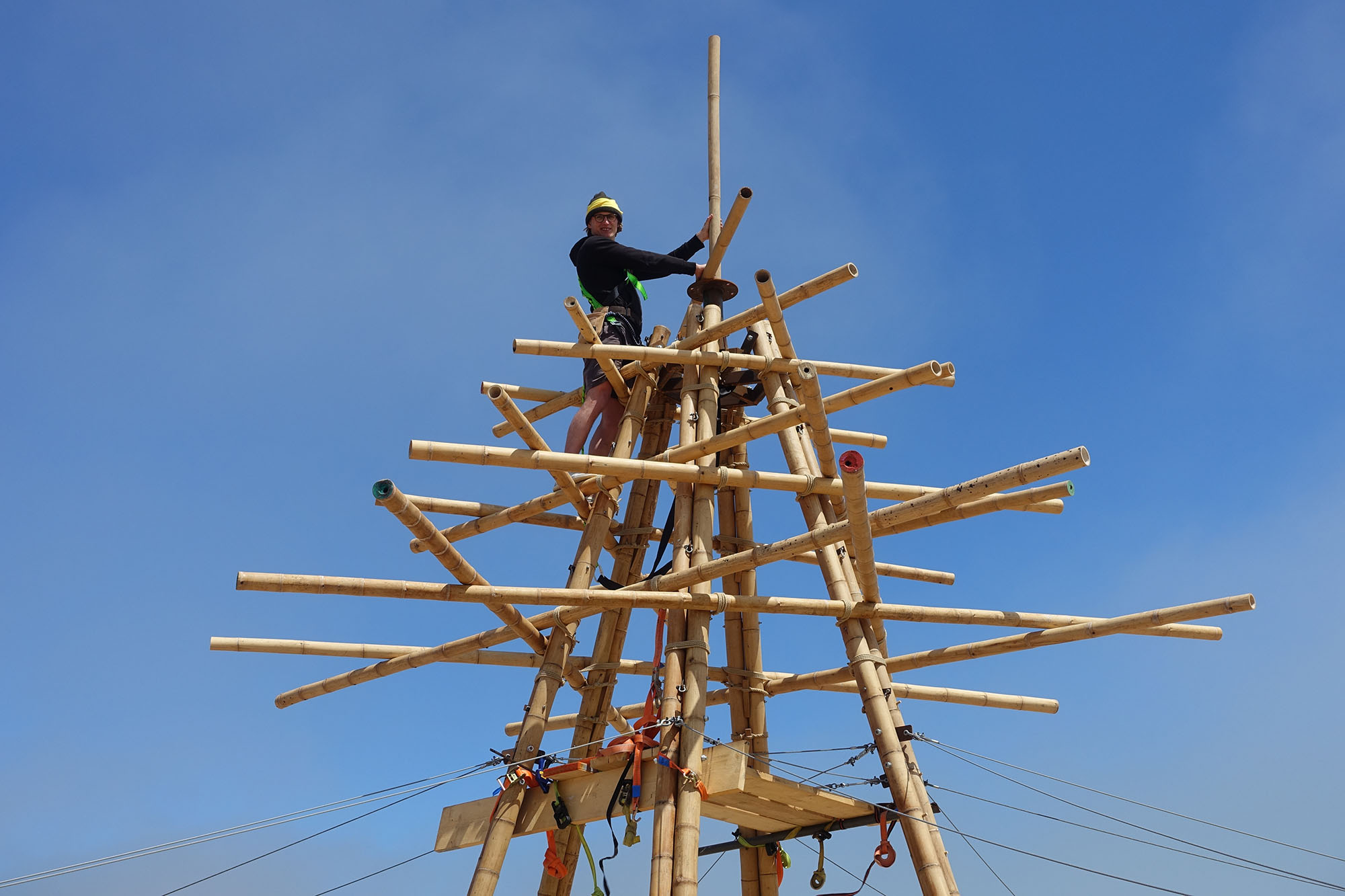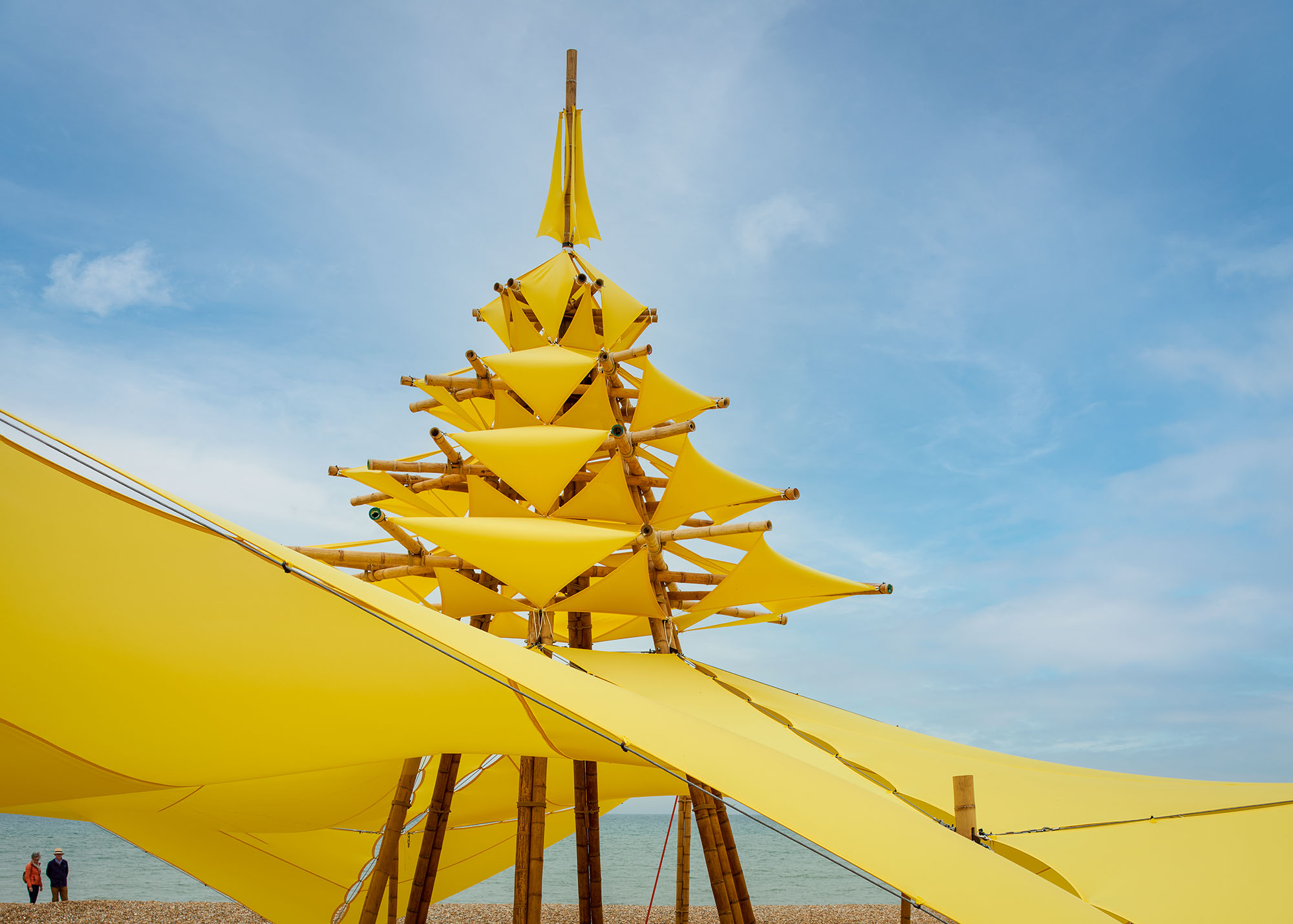 The Beacon of Hope – The Story Within.
Watch the project team explain the story behind this astonishing bamboo structure and its move to AKT II's head office at the White Collar Factory.
Watch the film.